A Literary Map of Canada...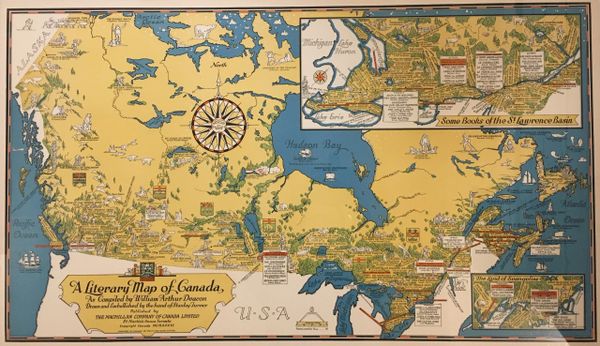 A Literary Map of Canada...
STANLEY TURNER & WILLIAM A. DEACON
Published 1936, Toronto
Size: 20.5" X 34"
Description:
A rare and visually beautiful pictorial map of Canada that depicts important works of Canadian literature up to the mid 1930s.  The map is also adorned with two insets. One depicting books of the St. Lawrence Basin and the other of the Land of Evangeline. 
The map is important in that it provides a cartographic context to works of literature that helped define and describe a nascent Canadian identity following its participation in the First World War.  Furthermore, it should be pointed out that this pictorial  map was printed shortly after the passing of the Statue of Westminster in 1931 that gave the Canadian Parliament, as well as other Colonies of the British Commonwealth, the ability to govern themselves, which is a testament to the public's interest in this nascent feeling of a separate Canadian identity and its demands for it to be recognized.  Thus Stanley Turner's idiosyncratic style of pictorial maps along with the erudite compilation of literary works by William Deacon, an editor of such publication as Saturday Night, Mail and Empire and the Globe and Mail, would have been helpful in providing information to the mass public on one of the Canadian nation's fundamental method of expressing its identity; that of a distinctive literature.  In fact, it has been eloquently argued that "both individually and collectively, literary texts help to give that "here" its shape and character." 
It is intriguing that although a nation's literary geography is important in helping define its sense of self and consequently can be construed as an important tool of nation building, that the current Turner and Deacon literary map, along with a revised version published in 1979 by David Macfarlane and Morris Wolfe, are the only two maps to have attempted to provide a pan Canadian geographic perspective of its literary history.  That being said, Turner and Deacon's map was published in a time when literary pictorial maps had also been published in other countries.  A Pictorial Chart of English Literature or A pictorial Chart of American Literature by Ethel Earle Wylie and Ella Wall Van Leer, are contemporary examples demonstrating that literary maps were not confined to the Canadian experience, but were rather part of a movement of discovery and a search for identity that continues to this day.

Of particular interest to the Canadian experience and those interested in tales of exploration and cartography which are now seen as important facets of the Canadian identity is the omission of such important works as those of Samuel Hearne, David Thompson, or John Franklin.  As such, it should be noted that Turner and Deacon's map falls victim as is the case with all literary anthologies, to the choices and biases of those compiling and editing works.  These should not be seen as failures of a prior age, but, rather stand as beacons that help guide viewers to the evolution and changing tastes and biases of one generation to the next.
(Sources: Krotz, Sarah W., Place and Memory: Rethinking the Literary Map of Canada.)