A Map of Chicago's Gangland from Authentic Sources...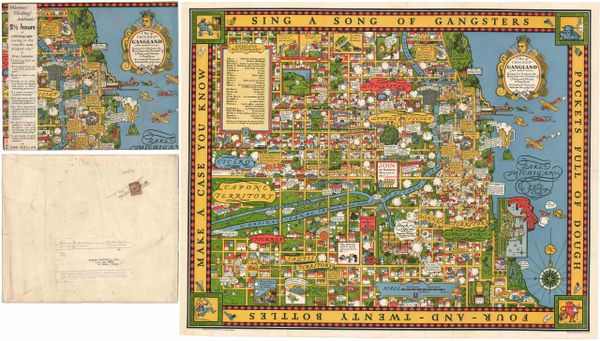 A Map of Chicago's Gangland from Authentic Sources...
BRUCE-ROBERTS INC.
Published 1931, New York
Size: 26.75" X 35"
Description:
One of the great maps of the "golden age" of pictorials!  Bruce-Roberts Inc.'s very rare depiction of Chicago's Gangland during Prohibition has been sought after by collectors and institutions alike because of its iconic artistic imagery and historical significance.  Also included is a rarely seen envelope with the map's imagery that was used to send the map to clients.
The map was published the same year as Al Capone was sentenced to prison for tax evasion after seven years of his rule leading the Chicago Outfit of the American Mafia. Capone's rule of the Chicago Outfit coincided with the  prohibition era that lasted from 1920 to 1933.  The era of the 1920's and 30's in Chicago was noted for its underworld gang wars and violence for control of the distribution network of alcohol prohibited under the 18th Amendment of the U.S. Constitution.
The Bruce-Roberts Inc. map depicts the different territories held by the different mafia's such as those held by the Capone, Slatis, and O'Donnell gangs, and includes and inset of a Gangland Dictionary as well as an inset of The World's Fair Grounds in 1911.  Other vignettes, linked by lyrics to a gangster song, adorn the map at the four corners that depict a lawyer running to "spring" his client with an Habeas Corpus Writ, a second depicting an a man fencing in front of the picture of King George V, the third depicts an armoured car used by gangsters in making social and business calls, and finally the fourth is a depiction of Mrs. O'Leary's cow that kicked the lantern that started the Chicago Fire in 1871.
The imagery of the Bruce-Roberts Inc. map is often associated with MacDonald Gill's 1913 pictorial map Wonderground that depicts the London subway system.  However, whereas Macdonald Gill's map is strictly playful and whimsical, the Bruce-Roberts Inc. map uses imagery often associated with graphic novels or comic strips to portray real life violence and bloodshed.  It has been argued that "within this larger historical context, comics can be seen both as an ancient medium that combines words and images, two of the primal building blocks for communication…". It is further argued that "comics are fundamentally about the coming together of word and image, as well as panels on a page, and, given their traits of exaggeration and links to caricature, they are well suited to parody and satire, giving them a subversive undercurrent." As such, the Bruce-Robert Inc. Gangland map is important for social studies because of the manner by which different media, such as advertising and art prevalent in early 20th Century come together to portray and help bring understanding to changes in social mores resulting ultimately from economic conditions that prevailed during Prohibition and the onset of the Great Depression.  The Gangland map, as is the case with Comic strip imagery helped bring simplicity to otherwise harsh realities of a complex modern society.  It's theme of violence and whimsicalness renders this pictorial map a work of art emblematic of the American identity of the 20th Century.
(Sources: Encyclopaedia Britannica Graphic Novel)