Abbas Sahab, Map of Afghanistan.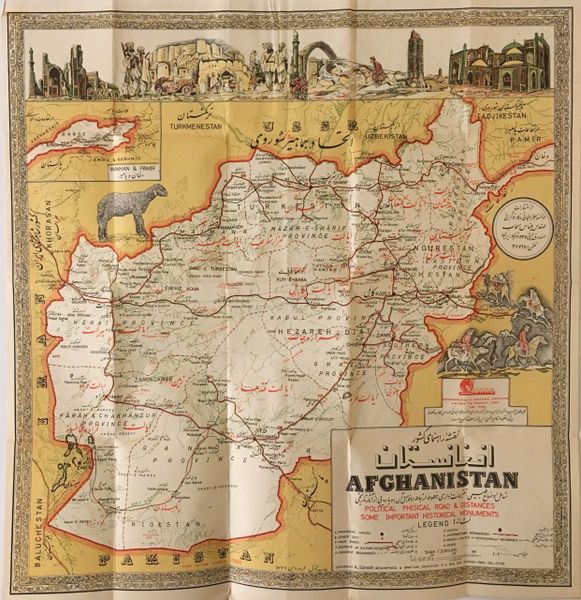 Abbas Sahab, Map of Afghanistan.
ABBAS SAHAB
SOLD
Published 1960, Tehran
Size: 22.75" X 23.5"
Booklet size: 4.75" X 7"
Description:
A rare and intriguing first edition road map of Afghanistan by the renown Iranian cartographer, often referred to as the "father" of modern Persian cartography, Abbas Sahab.
The folding lithographed map was published by the Geographic and Drafting Institute founded in 1935 by Sahab's father, Aboghasem Sahab.
The road map is adorned with beautiful iconography that includes a header view of different important Afghani sites of historical significance, and travellers on horseback, dromedary, mule and oxen near the Khybar Pass on its Eastern frontier with Pakistan. 
The map depicts Afghanistan's provinces and the bordering states of Pakistan to its East,  Iran on its Western flank and territories under the control of the USSR to the North such as Pamir, Tadjikestan, Uzbekistan, and Turkmenistan.  The map also includes an inset of Wakhan and Pamir.
The map is important not only for it artistry, but also because of the times in which it was published.  Afghanistan in the 1950s and 1960s, was attempting to modernize itself and end its century old internal conflicts that afflicted its ability to grow.  Its geopolitical importance is largely due to its location in straddling major regional powers such as the USSR, Iran and Pakistan, and acting as a buffer between these competing interests during the Cold War.  Afghanistan's importance during the onset of the Cold War was such that President Eisenhower even made a brief stop in 1959 to discuss with the Afghan king issues such as US aid to counter balance Soviet influence following a visit by the Soviet leader, Nikita Khrushchev, in 1955. However, the modernization attempt was halted by the 1970s as Afghanistan reverted back to its historical propensity for discord that would eventually lead to civil wars and a disastrous invasion by the USSR by the end of the decade.