Amerique Septentrionale. Publiée sous les auspices de Monseigneur le Duc d'Orléans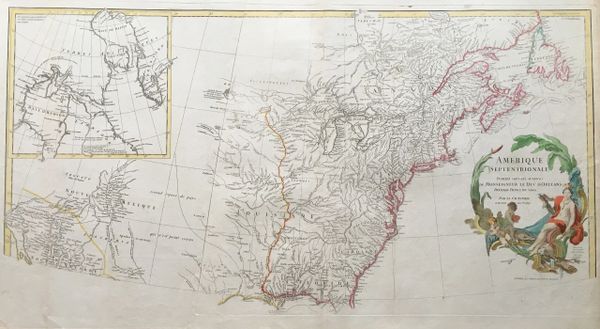 Amerique Septentrionale. Publiée sous les auspices de Monseigneur le Duc d'Orléans
Jean-Baptiste Bourguignon d'Anville
SOLD
Published 1746 (1763), Paris
Size: 34" X 32.5", each sheet
Description:
A rare and beautiful map of North America from Baffin Bay to the Southern reaches of the Caribbean and the Northern parts South America.  The map was produced by Jean-Baptiste Bourguignon d'Anville, one of the pre-eminent cartographers of the 18th Century.  
This map is of particular interest because of the fact that as the Royal Geographer to Louis XV, D'Anville had access to much of the primary cartographic sources emanating from French explorers, missionaries, and fur traders present in the North American interior.  French explorers, as witnessed by this cartography of this map, were especially advanced in regions such as the Gulf of Mexico, as well as the Mississippi, Missouri and Ohio River valleys.  As such, this map and its cartographic information would serve as the foundation on which other cartographers such as Thomas Jefferys or John Mitchell would use for their own maps of North America  published a decade later.  It has also been argued that "d'Anville's 1746 map was among the maps consulted by Nicholas King for the seminal manuscript map of the Western parts of North America done for use on the Lewis & Clark expedition" that began in 1803.
There are two known states of the map.  One from 1746, that predates the outbreak of the Seven Years War, and the 1763 state, which this is a copy of, that was published following the signing of the Treaty of Paris of 1763 that put an end to Seven Years War as well as end the French colonial experiment in North America.  As such, the second state recognizes this treaty by delineating the new boundaries that showed that Britain now control the lands east of the Mississippi River all the way to the Hudson Bay Companies' possessions in and around Hudson's Bay.  The second state also shows Fort Dusquenes built by the French in 1754 that would later become the city of Pittsburg in Pennsylvania at the confluence of the Alligani and Managaela Rivers.
D'Anville's map is thus important to collectors not only for its beauty with the ornate cartouche, but also because of its cartographic importance in an era of discovery and geo-political conflict between European powers for the control of the North American continent.