British Admiralty Office Chart, England West Coast. Fleetwood to the Firth of Solway.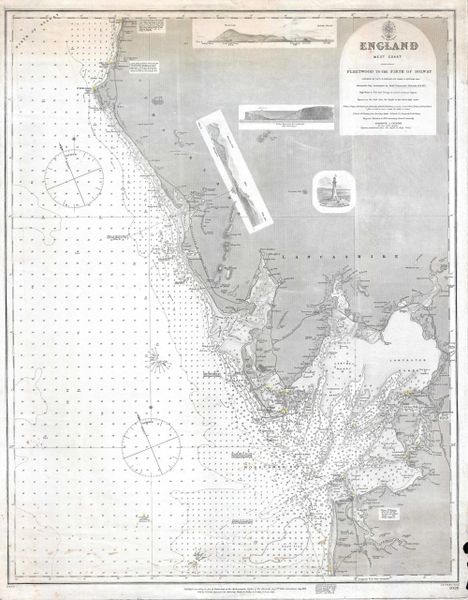 British Admiralty Office Chart, England West Coast. Fleetwood to the Firth of Solway.
BRITISH ADMIRALTY OFFICE
Published 1873, London
Size: 25.25" X 19.25"
Condition: Good. Wear along margins. Light soiling. Blank on verso.
Description:
A rare nautical chart of the west coast of England published by the British Admiralty Office and sold by J.D. Potter, an agent for the Admiralty.
The area depicted begins around Blackpool and stretches north to Harrington near the Firth of Solway.  It was originally surveyed by Captain H. Denham and Commander G. Williams in 1846 and re-surveyed in 1871 by Staff Commander Richards.
The chart includes depth soundings and navigational aids such as locations of oyster grounds, flats, wharfs, light houses, etc.  Also adorning the chart to aid navigators find discernible landmarks, are different notations with pertinent information and three important coastal views and the monument to Sir J. Barrow, the Secretary to the Admiralty.
As with most navigational charts, it should be noted that they are, in general, rare because  the nature of the wear and tear associated with working nautical documents.  However, when they do survive the vagaries of time, they often offer an interesting view into the past where nautical information was still a work in progress.
However, it should pointed out that British Admiralty charts, which began to be sold to the public in 1821 by the Hydrographic Office of the Admiralty, had a reputation for greater accuracy, then charts privately sold and commonly referred to as bluebacks. 
Admiralty charts, although more accurate, and often of less travelled routes, were less popular with 
with the important and growing British merchant fleet.  This was due, to a certain extent because Bluebacks often used the heavier inks, and the use of the Mercator's projection with the occasional rhumb line that made for an easier nautical reading by a less demanding merchant fleet for accuracy, but well entrenched in their historical ways and preferences.
However, both Admiralty charts and bluebacks offer a great view into the distant past when trade and naval superiority required at times accuracy and at other times experience.