Cable and Wireless via Imperial Limited.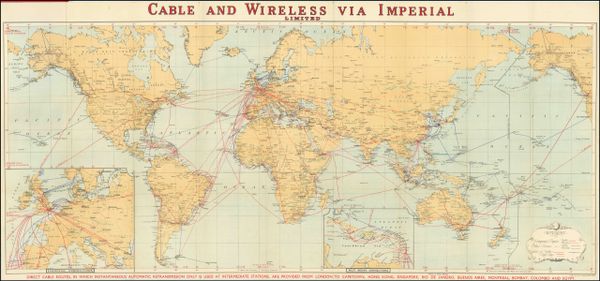 Cable and Wireless via Imperial Limited.
Edward Stanford
Published circa 1938, London
Size: 38" X 18"
Description:
An interesting map, issued shortly before the onset of the Second World War, depicting the extant of the Imperial Limited  global cable and wireless routes, an early precursor to today's interconnected world.  The map has two insets; one depicting the European connections  that emanate mostly form London, Newcastle and Portheurno, and the second showing the routes in the Caribbean that are concentrated in the Barbados and Jamaica.  The map is further adorned with a reference index that shows the different cable and wireless routes as well as the number of cable and land lines for the company and those of its competitors, thus showing the dominant market position of Imperial Limited. 
The Imperial Limited was a company that was created in 1922 by the British Government to link its Empire, the last of the great powers to do so.  In fact, the final link between Australia and Canada only became operational in 1928.  The new technology of long distance radio telegraphy, which had been developed by Guglielmo Marconi as early as the 1900s was crucial for the strategic defence of country's independence and sovereignty in that its communication ability could be severely curtailed and isolated if an enemy was able to cut its submarine telegraph cables.  The reason why Britain was slow in developing its cable and wireless network, was because it had already invested in the world's largest submarine telegraph cables. It was felt that investing in the new disruptive technology would bankrupt their initial investment.  A dilemma that many companies in the high technology sector continue to face in today's world.
The map is a fascinating reminder how far the communication revolution evolved from the invention of the telegraph some 100 years prior.  Furthermore, this revolution, although antiquated in today's world, was instrumental in laying the groundwork to todays hyper-connected world on a fibre optic infrastructure.  That being said, the technological leap of using cables and wireless technology to communicate over long distances was a profound change in human history.  Information could now be transferred from all parts of the world to the centre of economic, social and political power.  With this ability, the world, in way, became smaller with an increase ability for individuals to learn and understand each other, on one hand, but also, led to greater competition between socio-economic forces to control this new inter-connected world that eventually led to global warfare in the 20th Century.