Carte d'Allemagne, Camps de Prisonniers.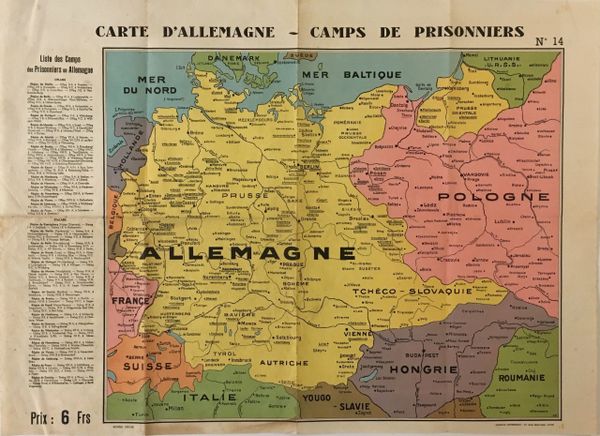 Carte d'Allemagne, Camps de Prisonniers.
AGENCE GUTENBERG
Published c.1940-45, Lyon
Size: 21.5" X 29.5"
Description:
A rare map depicting the locations of the prisoner of war camps of the Axis Powers during the Second World War.
Although the illustrator of the map left his or her initials (X.R.), the identity of this illustrator has yet to be determined. The map was most likely separately issued and produced by Agence Gutenberg located at 10, Quai Saint-Clair in Lyon, France. 
The map includes an index that lists by region the different Oflags, (prisoner of war camps for officers) and Stalags (prisoner of war camps for noncommissioned officers and privates).  Each location of the different Oflags and Stalags are then underlined on the map itself.  In all there are 15 districts that have Oflags and 17 districts that have Stalags for a total of over 100 prisoner of war camps depicted.  
The map shows Germany with the inclusion of their territories under its control including Czechoslovakia, and Austria, as well surrounding countries such as Poland, Lithuania, Sweden, Denmark, Holland, Belgium, Luxembourg, France, Switzerland, Italy, Yugoslavia, Hungary and Romania.
The map is a good reminder of the power of cartography to inform.  In this case the map provides geographic information on the locations of the prisoners of war camps. However, what it shows may not always fully provide the human scale of a conflict.  Absent from this map  are the numbers of prisoners and the death toll per camp.  For example the camps do not begin to convey the fact that over 2 million French prisoners alone were sent to prisoner of war camps in Germany when the French armies surrendered in 1940.  Furthermore, although Germany was a signatory to the Geneva Convention of 1929 that provided for the treatment of prisoners of war following their capture, the map does not provide the viewer with a break down of the high mortality rate found in some camps or their conditions. Yet, it is with the passage of time that a modern viewer with hindsight can observe a map such as this one, and begin to mentally fill in the missing information that furthers the scope of the original intent of the cartographer. 
This map is rare in that no records exist for OCLC.