China Daily News & Herald, Map of Shanghai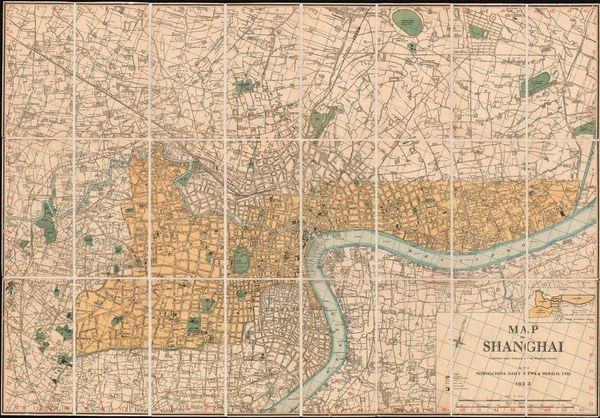 China Daily News & Herald, Map of Shanghai
NORTH CHINA DAILY NEWS & HERALD
Published 1933, Shanghai
Size: 29.5" X 42.5"
Condition: Relined with fresh linen. Some toning along old folds.
Description:
A very rare map of the city of Shanghai by the North China Daily News and Herald Ltd., the official record of the British Consulate and the British Supreme Court for China and Japan.  The map focuses on the district known as the Shanghai International Settlement, which was based, to a certain extant, on the map Shanghai Municipal Council published in the same year.  This so called  Shanghai International Settlement resulted when British and American controlled areas of Shanghai, created as a result of the "Unequal Treaties" following the Opium Wars, were merged in 1863. The area was effectively administered by the Shanghai Municipal Council which was controlled, for its part, by British interests that restricted the residency of the native Chinese population.
That being said, the area of the International Settlement was renown for its elegance as well as its extravagance and became a nexus for the important opium trade within one of the worlds largest cities in the mid 1930s.  And although the habitants of Shanghai who were of European descent only numbered, at most, 50,000 in a city of 3 million, the majority of the land was owned and controlled by this powerful minority.
However, it should be noted that the map was printed shortly not only after the Shanghai Special City Government had authorize in 1931 the start of the Greater Shanghai Plan to revitalize the metropolis based on the ideas of the Garden City movement initiated by Ebenezer Howard, but also after there Shanghai Incident of January 28, 1932 when the Japanese Navy began to bombard the city in retaliation for Chinese protests against the Japanese occupation of Manchuria.  Although the League of Nations intervened to force a ceasefire on the two powers, tensions would eventually resume and lead to a second Sino-Japanese War a few years later and morph into the  Asian theatre of the Second World War.
Although the foreign concessions which included the International Settlement had largely ended during the Japanese occupation during the Second World War, the area today remains an affluent part of this vibrant city.  The map thus offers an interesting glimpse into Shanhai's storied past.
As previously indicated, it should be noted that this map is very rare with only one copy showing in the OCLC/WorldCat.