Cook, Entrance of Endeavour River in New South Wales. / Botany Bay in New South Wales.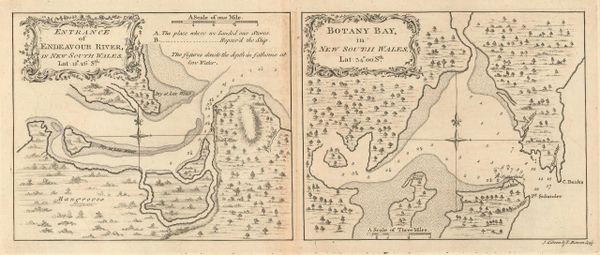 Cook, Entrance of Endeavour River in New South Wales. / Botany Bay in New South Wales.
CAPT. JAMES COOK
Published 1773, London
Size: 6.5" X 14"
Condition: Very Good. Even overall toning. Light wear along original centrefold.
Description:
A  set of two important maps printed on one sheet highlighting the first European discovery of Australia by one of the greatest cartographers and explorers of the 18th Century, Captain James Cook.  The maps depict the discovery, by Cook and his crew, of the entrance to the Endeavour River and Botany Bay in New South Wales, Australia, whilst on his first of three expeditions in the South Seas.  
His first expedition, along with its scientific focus, was also instructed to discover evidence of Terra Australis Incognita.  It is in this voyage that he and crew were able to discover the Australian coastline for the first time by European explorers.  Shortly after the discovery of this coastline, Cook made the first landing at what eventually became known as Botany Bay in April 1770 in honour of the unique specimens retrieved by the botanists aboard the Endeavour, Joseph Banks, Daniel Solander and Herman Spöring.
In continuing his northern exploration of the coastline of the Australian continent, Cook eventually discovered the river that bears the ship's name.  It was on the Endeavour River that James Cook had been forced to beach his ship for repairs that lasted over seven weeks, allowing members of his crew to make contact with local aboriginal tribes and to permit the naturalists Joseph Banks and Daniel Solander to explore and study the native flora.
This pair of maps were engraved by John Gibson and Thomas Bowen and published in the first official account of Captain Cook's first voyage.