Cuba and the Windward Passages.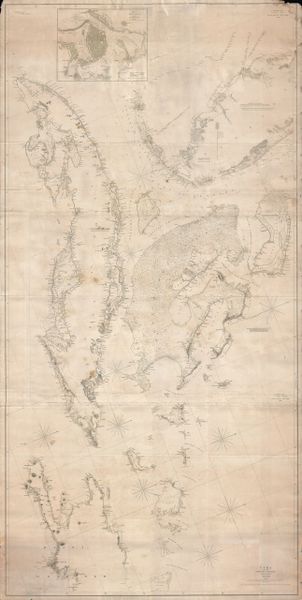 Cuba and the Windward Passages.
E. & G.W. BLUNT
Published 1857, New York
Size: 81" X 41"
Condition: Working nautical chart, exhibits pencil marks related to navigation, some cracking, overall toning, minor staining. Minor loss to upper right and left corners, not affecting printed map. A couple of minor verso repairs. Backed on blue paper.
Description:
A stunning composite chart of the Cuba including the southern coast of Forida taken from sheet VI, VII and VIII dating from 1844 as well as the chart of Cuba and the Windward Passages dated 1857 from the renown firm of E. & G.W. Blunt.
The chart is adorned with an inset plan of Havana from the Spanish Surveys and a view of Villa Clara and Jimaguas Mountains at Cristo Cay.  Furthermore, this a chart also has manuscript marking of a navigational route dating from October 1860 from Tortugas Bank near the Florida Reef to the South Elbow Cay and thence to Holm Cay in the Bahama Bank at the Northern edge of the Santaren Channel.  A secondary route is also shown from a similar starting point to the tip of the Northwest corner of Little Bahama Bank. And finally a route is shown from the Northwest Providence Chanel North of Great Stirrupt Cay.
It should be noted that nautical charts from this era are rare in general, but especially those that were in actual use, due to the nature of the wear and tear of working nautical documents.  However, when they do survive the vagaries of time, they often offer an interesting view into the past where nautical information was still a work in progress.  That being said, Blunt's chart offers some important notations indicating best navigational routes to take in these waters.  For example, "vessels wishing to keep in the best current of the Gulf Stream will when in Lon. 79'30' lat 27'30' steer North, until in lat 30'30' thence N.N.E. eagerly until up with Hatteras."
As such, nautical charts continue to be sought after by collectors because of their ability to convey a past where a sailors experience was as important as the chart itself. Trade routes were often well trotted such that charts could forgo a certain amount of accuracy, in exchange for the familiar components with charts of the past such as the ornate script used for cartouches, and the overall look and feel of the chart itself.