Plan Géometral de la Ville de Lyon.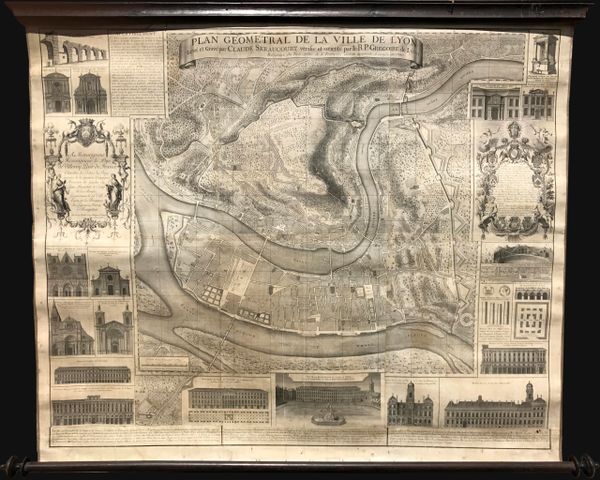 Plan Géometral de la Ville de Lyon.
CLAUDE SERAUCOURT / R.P. GRÉGOIRE
Published 1740 (1735), Paris
Condition: Very Good. Printed in 6 panels by the publisher. Pressmark visible. Professionally restored. Backed on archival linen.  Mounted on original rollers.
A stunning wall map of Lyon, France surrounded by insets of different views of buildings and monuments to be found in one of France's pre-eminent cities of the 18th Century.  The wall map is also adorned by two beautiful cartouches dedicated to Monseigneur le Duc de Villeroy, and of Lyon's city council.
The map, similar to that published by Michel-Étinene Turgot in his famous Plan de Paris of 1739, provides a bird's eye view, of one of France's great urban centres.
However, whereas Turgot uses an isometric perspective to draw the city of Paris, Seraucourt used a geometric plan.
 Lyon, which is found at the confluence of the Rhone and Saône Rivers in the East Central part of France, was, along with Paris, Rouen, Bordeaux, Toulouse and Marseille, a major population centre, in Europe's most populated Kingdom under the Bourbon monarchy of Louis XV.  
The map was first issued in 1735 shortly after Lyon bought the islands to its south for future growth, and following Louis François Anne de Neufville becoming the 4th Duc de Villeroy the prior year.  
Seraucourt re-issued the map in 1740 with minor changes such as the suppression of the depiction of la rue Serpilière near l'Hôtel Dieu. 
A further element that is interesting with these city plans, whether they be geometric plans, such as Seraucourt plan of Lyon, or Turgot's isometric plan of Paris, is that the perspective used to depict the city plans are done without aerial assistance.  The first hot air balloon flight only occurred in 1783, some 40 to 50 years after the publication of these great city plans.
These city plans thus offers viewers not only beautiful depictions of important urban centres of Europe, but they also act as testaments to the dedication by these cartographers to their craft.