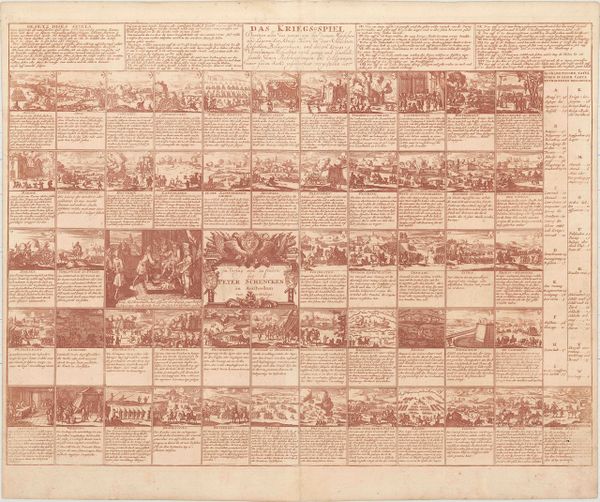 Das Kriegs-Spiel.
PETER SCHENKEN
Published c. 1700, Amsterdam
Size: 18 1/4" X 22"
Condition: Minor soiling with a weak impression in bottom right corner and professional repairs to a separation at centrefold at bottom and to two 2" clean cuts adjacent to the centrefold at the top.
Description:
A rare and interesting card game in its original and uncut sheet printed in sepia.  The engraved sheet is comprised of 53 panels representing 52 playing cards with the final panel depicting a scene with the Monarch handing a marshal's baton to a victorious general.  Each of the 52 playing cards depicts scenes of military manoeuvres or encampments.  The game's rules are listed in the upper sections of the game sheet beside the central cartouche.  Each card's title is further indexed on a panel to the right of the card game.  Finally, a central panel adorns the game sheet with Peter Schenken's imprint.
It is important to note, that Schenken's card game is based on Gilles de la Boissière's Le Jeu de la Guerre that was originally published in 1668.  Boissière also published a similar war game entitled Le Jeu des Fortifications that Schenken also copied with Festung Baues Spiel.  Both sets of games are similar in design and follow a comparable set of rules.
The game rules, although simple in nature, attempt to educate the players with basic military concepts.  These concepts are focused on contemporary military tactics of Line infantry and siege warfare of the mid 17th and early 18th Century.  As such, some of these concepts include manoeuvres like marching, convoying, storming, retreating, as well as incorporating military elements such as reporting, signalling, and foraging.  Furthermore, it is likely that these military concepts came from contemporary military manuals such as Alain Manesson-Mallet's Les Travail de Mars ou l'Art de la guerre, published in 1671.
It has been argued that these types of games originally began after cardinal Mazarin requested a card game in 1644 for the education of the young Louis XIV.  Card games such as Cartes des Rois de France or Jeu de la Géographie were thus conceived and dedicated for the Queen Regent for the education of the young King by the likes of Jean Descartes de Saint Sorlin and Stepfano della Bella.  Gilles de La Boissière's Le Jeu de la Guerre and Le Jeu des Fortifications thus followed in this vein 1668 for the education of Louis XIV's son, the duc de Berry, and subsequently in later editions for his grand-son the duc de Bourgogne.
As such, all types of card games dating from the mid 17th to late 18th Century are a fascinating look into the eduction and interests of the nobility that span from geography, history and war.
(Sources: BRM2622, Musée Français de la Carte à Jouer, expositions.bnf.fr/jeux/grand/072.htm, http://www.issy.com/storage/musee/cd2.htm)