[Two versions of an untitled Vietnam War era political cartoon.]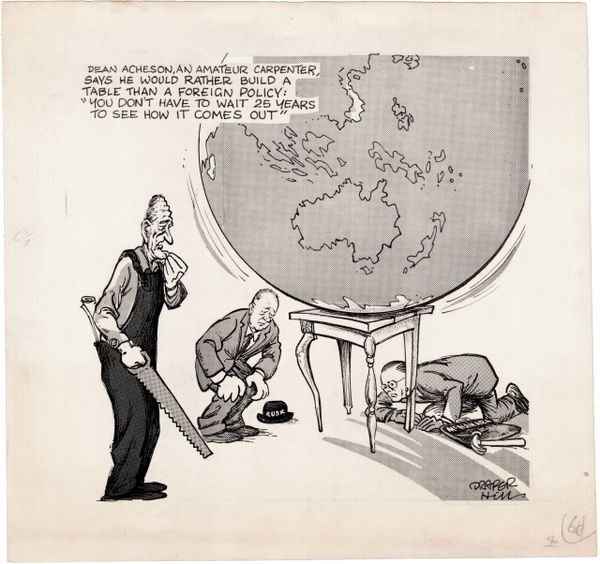 [Two versions of an untitled Vietnam War era political cartoon.]
DRAPER HILL
Published: c.1965-68, USA
Size:8 1/2" X 7 1/8" and 14 1/2" X 15 3/8"
Condition: Adhesive residue on verso of draft sketch showing through on recto.
Description:
A rare political cartoon by Draper Hill satirizing the United States' policy of "Containment," which sought to limit the expansion of Soviet communism but ended up precipitating the catastrophe of the Vietnam War.  Present here in both working manuscript and printed form, enabling one to see changes from conception to the final copy.
The draft of the cartoon depicts President Lyndon B. Johnson as a rather homespun carpenter in overalls and carrying a handsaw. He contemplates a table with four mismatched legs, barely supporting a wobbling globe on which Vietnam is highlighted in white.  The table represents the Containment policy famously championed by George Kennan and first implemented by President Truman and Dean Acheson, Secretary of State from 1949-1953. Johnson quips, "Dean Acheson, an amateur carpenter, says he would rather build a table than a foreign policy: "You don't have to wait 25 years to see how it comes out.""
The printed version spreads accountability and introduces comic contrast by adding Johnson's Secretary of State Dean Rusk and Secretary of Defense Robert McNamara. The two men, dressed in suits in contrast to Johnson's shabby overalls, crouch and kneel to get a closer look at Acheson's rickety table.
At the time this cartoon was drawn, Johnson, Rusk and McNamara were dealing with the most infamous consequence of Acheson's Containment policy, namely the undeclared war in Vietnam. This cartoon suggests what is now generally accepted: America's most senior leaders knew the war to be unwinnable, but maintained and even expanded the war effort in order to maintain "credibility."
Draper Hill (1935-2009) was a graduate of Harvard and the Slade School of Fine Art. He began to ply his trade as a political cartoonist with the Quincy, Massachusetts Patriot Telegram and the Worcester Telegram. Hill would eventually move to the Detroit News in 1976 and remained there until his retirement in 1999. During his illustrious career he was awarded the Thomas Nast prize for editorial cartooning in 1990 and is also known for his historical research on James Gillray.
Hill's work is a reminder of the power of images, for better and worse, to reduce complex arguments to their essence.