Ferdinand Blumentritt, Mapa Etnográfico del Archipiélago Filipino...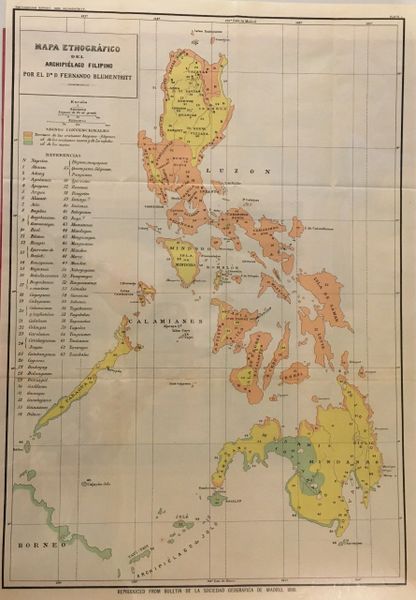 Ferdinand Blumentritt, Mapa Etnográfico del Archipiélago Filipino...
FERDINAND BLUMENTRITT
Published 1890 (1899), Washington, D.C.
Size: 23.5" X 17"
Description:
A rare lithographic map of the Philippines initially issued by the Boletin de la Sociedad Geografica de Madrid in 1890 and re-issued nine years later by the Bureau of Ethnology of the Smithsonian Institution shortly after the United States had defeated Spain during the Spanish-American War which saw the Philippines being transferred to American control.
The map lists 63 different ethnographic tribes and provides a visual representation of the geographic areas with the different religious affiliations.  These include christian filipinos of hispanic background, those considered as new christians or non believers, and finally territory with high muslim populations. 
The map is based on the work of Ferdinand Blumentritt, a Czech/Austrian researcher who wrote substantially about the Philippines in the latter part of the 19th Century.  In fact, Germans researchers, such as Blumeentritt, had established themselves as the leading authorities on the Philippines and of its ethnography starting as far back as the mid 19th Century.   As such, it has been argued that "Spaniards translated several of these Germans' studies in support of Spain's rule over and continued exploitation of the Philippines."  When Spanish rule ended in 1898 with the control being passed on to the United States, information regarding the Philippines, including its ethnography, became of interest to American researchers and to the general public alike.
Thus Blumentritt's map is of importance in that it gives a snapshot of the Philippines and its society on the eve of the Spanish-American War.  The data depicted on this map continues to be of importance to historians and ethnographers who are interested in the changes that have occurred in one of Asia's diverse and vibrant societies.
(Sources: Weston, N. P., The Philippine Revolution in the Proceedings of the Berlin Society for Anthropology…)