Fore edge book with a view possibly of Winnipeg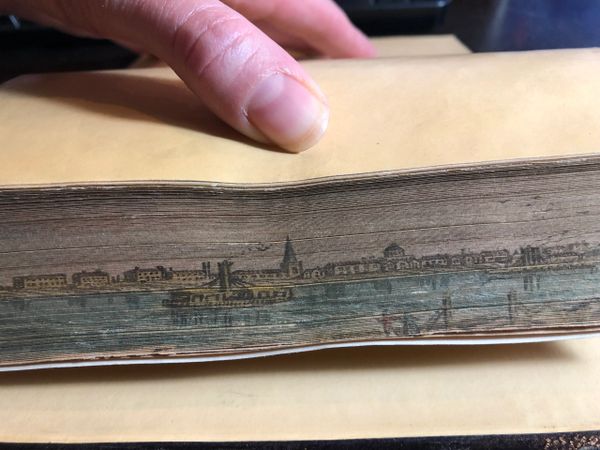 Fore edge book with a view possibly of Winnipeg
FORE EDGE VIEW
Published 1840, Edinburg
Description:
A rare and beautiful copy W.H. Lizars' Lives of Eminent Naturalists with a fore edge image that is most likely of Winnipeg circa 1880.  By their very nature, fore edges have a certain mystique and mystery attached to them that reached their zenith in popularity in the mid 19th Century and which leave collectors intrigued to this day. 
The fore edge image is potentially of Winnipeg
from the St. Boniface Ferry Landing because of its similarities that it has with the published image of this location drawn by George Munro Grant that appeared in Picturesque Canada in 1882.
That being said, if we are dealing with a view of Winnipeg that potentially dates the fore-edge to the early 1880s, then it is possible that a wealthy patron might have commissioned the work at a critical juncture during the city's history.  Although the fur trade in the area was in decline at this time which ultimately prompted the Hudson's Bay Co. to relinquish its charter over Rupert's Land in 1869, the site of Portage and Main, which eventually became Winnipeg, was quickly developing as a hub for economic activity that would lead to its incorporation as a city in 1873. With the arrival of the Canadian Pacific Railway  to Winnipeg in 1881, mass migration to the prairies could begin in earnest.  As such, the population growth of Winnipeg did begin to increase in a substantial way during this time as it became the principal transportation and commercial hub between the Canada's East and West.  Thus the city and the area surrounding it became important enough during this time that someone might have wanted to commission a fore-edge either as a gift or as a memento for their personal library.

The argument could also be made that if the fore edge was painted in the country of its publisher, that it is conceivable that a British artist would have used a contemporary image of a North American city, such as Winnipeg, an outpost to its vast British North American colonies, to adorn the book for whatever commercial or personal reasons. Naturalists were drawn to North America for its yet unspoiled nature and offered endless possibilities for research and exploration. Cartographers and explorers weren't just interested in maps.  A regions flora and fauna were also seen as important aspects to the study and discovery of the potential of new lands.  A work with a fore edge of an outpost city where civilization and nature meet could thus, ironically, be seen as the reason why this image was painted on this book. Yet, as already indicated, fore edges although beautiful, have a certain mystique and remain mysterious to this day.