Grande Carta del Pacifico.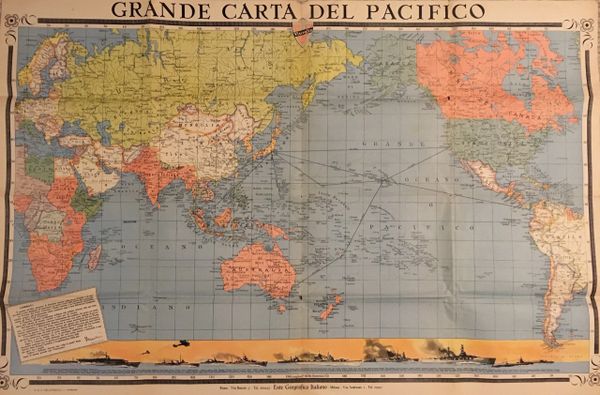 Grande Carta del Pacifico.
Ente Geografico Italiano
Published 1941, Milan
Size: 45.5" X 30"
Condition: Some separations along old fold lines and minor tears at the edges.
Description:
An intriguing world map issued shortly after the Japanese attack on Pearl Harbor that led to England and the United States declaring war on Japan, following the attack on Pearl Harbor, on December 8, 1941 and Germany and Italy declaring war on the United States December 11, 1941.
The map also has an inset message from Benito Mussolini dated the same day as the declaration War on the United States where he declares:
"The Powers of the Pastto d'Acciaio, Fascist Italy and National Socialist Germany, more and more closely united, descend today to the side of the heroic Japan against the United States of America.
The Tripartite becomes a military alliance that deploys 250 million men around its flags, determined to do anything to win."
This depiction, as well as others that were printed during this time frame focused of on the new theatre of the war in the Pacific, which now pitted fascist regimes against an array of allied forces.  The propaganda were published during Mussolini's regime and were part of the Italian state's effort to provide a favourable viewpoint of the conflict.
As such, maps of this nature, published soon after the declaration of war between the United States, Japan, and the Axis powers, are important reminders of the power of visual cartographic images to convey to the viewer an immediate understanding of the forces that are in effect in the different theatres of war.  Not only is the imagery focused on providing information, but also attempts to shape the narrative.