Hagstrom, New York World's Fair by Subway and Automobile.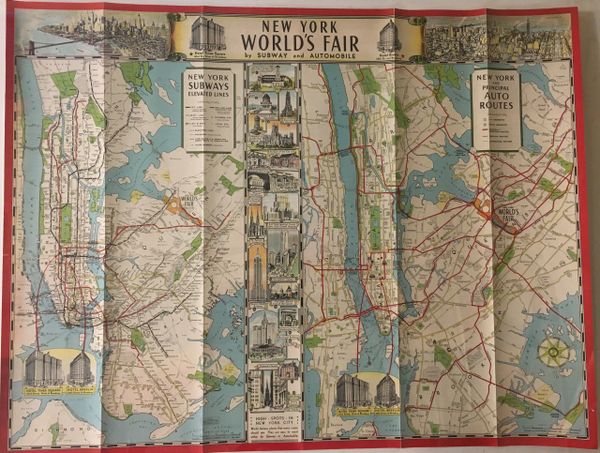 Hagstrom, New York World's Fair by Subway and Automobile.
ANDREW G. HAGSTROM
Published 1939, New York
Size: 16.25" X 21.25"
Description:
A rare and interesting map of New York City and the surrounding area issued as a promotional piece during the 1939 World's Fair held at Flushing Meadows in Queens, NY.  The map is composed of two insets with one depicting the New York City subway lines and the other showing the principal auto routes.  The map is adorned with eighteen vignettes of different city views and "world famous places that every visitor should see".  These include such places as the Metropolitan Museum of Art, the Empire State Building and the Rockefeller Center.
The map, in both insets, include images of the distributors of this promotional item, Hotel Times Square on 43rd Street, and Hotel Breslin on 29th & Broadway.  As for the publisher, the Hagstrom Map Company, it is argued that they helped create a cartographic style that increased the depiction of street sizes to increase visual clarity and print labelling.
The verso of the map advertises the respective hotels and their room rates, aw well as providing the prospective visitor with information about the city and  tourist destinations.
The 1939 World's Fair was based on the future with the focus on "the world of tomorrow" with over 44 million attending between 1939 and 1940.  The concept of the 1939 World Fair began as early as 1935 during the Great Depression so as to provide a tonic to the harsh economic conditions of the day.  In fact, the New York Fair was the biggest world's fair since the outbreak of World War I. 
The historical irony, however, lies in the fact that World War II would commence some 4 month after its opening, which, unfortunately, pitted different ideologies not only within the confines of each nations pavilions, but on the battlefields throughout the world.
As such, this pictorial map with its joyfulness and exuberant colours depicting a city open to the world, masks a set of global tensions that would shortly erupt into open warfare. It is also a reminder of the subjectiveness of cartography both by the map maker and by the viewer to render meaning with the passage of time.