Humoristische Karte von Europa Im Jahre 1870.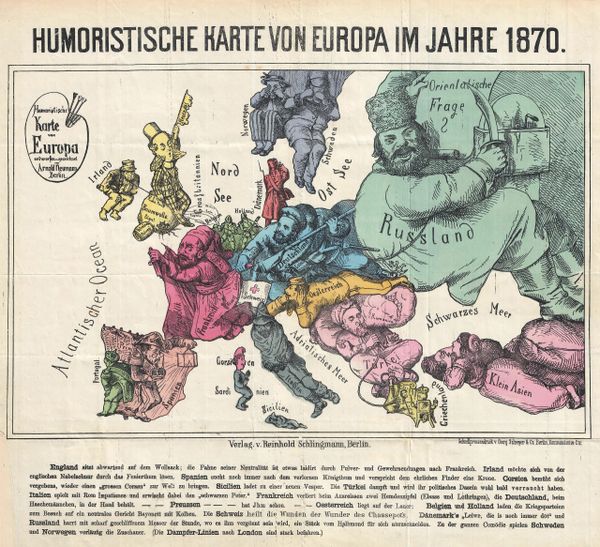 Humoristische Karte von Europa Im Jahre 1870.
ARNOLD NEWMANN
Published c. 1870, Berlin
Condition: Very Good.  Minor wear along original fold lines.  Blank on verso.  Lower left margin extended.
A very rare and important satirical map of Europe published following the Franco-Prussian War in 1870.  It has been claimed that this map was a response to Paul Hadol's Carte drôlatique d'Europe which was also published in that year.  
In essence, the Franco-Prussian War, was a conflict that pitted France under Napoleon III and an array of Northern German states under the leadership of Otto Von Bismarck of the Kingdom of Prussia, who wanted to unify these states with their Southern counterparts and thus shift the balance of power in Europe.  With the defeat of France, the German states were able to unify in a German Empire under Wilhem I.  Furthermore, under the Treaty of Frankfurt in 1871, France ceded much of Alsace and Lorraine.  As such, these developments in the shift in the balance of power in Europe and the loss of territory and prestige by France, are some of the causes that eventually led to the outbreak of the First World War in 1914.
The fundamental differences between Newman's and Hadol's satirical maps focus on the manner by which the the different countries are drawn and with the descriptive texts that were presented below the depiction of Europe.
Hadol's description is as follows:
England, isolated by rabies and plague almost forgets Ireland which she holds on a leash. 
Spain smokes as it leans on Portugal.  
France defends itself against Prussia which advances with one hand on Holland and the other on Austria.
Italy also says to Bismark : Take your feet away from here.
Corsica and Sardinia laugh at it all.
Denmark who has lost its legs in the Holstein hopes to regain them.
European Turkey yawns and awakes.
Asian Turkey inhales the smoke of its hookah.
Sweden hops like a panther.
And Russia looks like a bogeyman that wants to fill its boots.
On the other hand Newman's description can be translated as such:
England, sitting off on their island, is waving a white flag in neutrality, although their neutrality is questionable, since they are sending arms to France.
- Ireland is being held on a string by England, and hopes to one day sever those ties.
France has lost Alsace and Lorraine, which are being held by Germany.
Corsica homes one day to again give birth to a 'Great Corsican'.
Italy plays cards with Rome and loses
Switzerland heals the wounded
Belgium and Holland invite the warring parties for a visit while holding bayonets.
Denmark says, 'My dear, he is still there'. Russia is sitting back and waiting, with a sharpened knife, until they have the opportunity to slice off a piece of the Crescent (Ottoman Empire) for themselves.
For the time being, Sweden and Norway just sit and watch.
It has been argued that "satirical or caricature maps existed in Europe from the 14th century but reached a pinnacle of sophistication in the second half of the 19th century. The genre took the form of humorous political commentary… As such maps increased in sophistication, the forms of the countries themselves were reimagined as comic figures. " Maps by Paul Hadol or Arnold Newman were one of the first caricaturists to depict political events in a geographic manner.

(Sources: BRM Iconic 1870 comic map of Europe by Paul Hadol, This map is sold in conjunction with Geographicus.