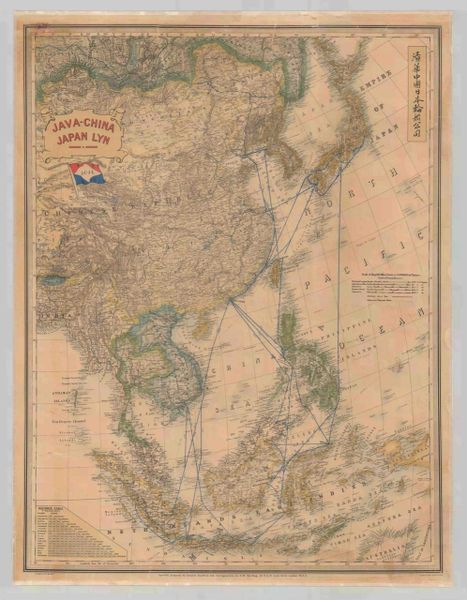 Java-China Japan Lyn
Edward Stanford ltd.
SOLD
Published circa 1930, London
Size: 33" X 43"
Condition:  Very Good. Full professional restoration.  Mounted on linen.  Some crackling and closed tears.
Description:
A rare wall map of  Southeast Asia depicting the shipping routes of the Dutch company Java-China Japan Line (JCJL) that was established in 1902.  The JCJL was created to service passenger and freight between the Dutch East Indies and China and Japan.
The map includes a table showing the distances in nautical miles from the major ports of call and service stations such as Padang, Batavia, Hong Kong, Shanghai, Kobe and Yokohama.
Although air travel was becoming more prominent during this era, the method of choice for passenger travel and cargo was still by sea, with the JCJL being one of the largest shipping companies prior to World War II in this region.  However, by 1947, JCJL was merged with Koninklijke Paketvaart Maatschappij (KPM) which became KJCPL or more commonly, the Royal Interocean Lines.
The map is of interest in that it is a reminder of the important political and economic position that the Netherlands had in the region prior to the outbreak of World War II and the dismantling of Dutch colonies and influence following the Japanese occupation.  The Dutch colonies, especially those of the Dutch East Indies, which is now Indonesia, were of importance for natural resources such as rubber plantations and oil fields, but also, because of the shipping lanes were, and remain to this day, of strategic importance.