L'amerique ou le Nouveau Continent Dressee sur les Memoires les plus Nouveaux...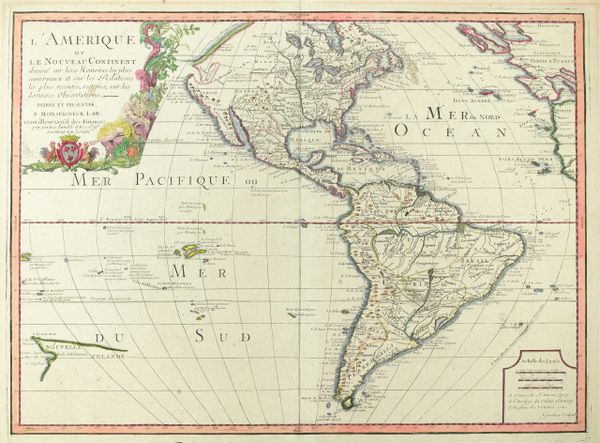 L'amerique ou le Nouveau Continent Dressee sur les Memoires les plus Nouveaux...
JEAN-BAPTISTE NOLIN
Published 1720, Paris
Size: 21 1/4" X 30"
Description:
A beautiful rare first state map of the Western Hemisphere that has been described as "one of the earliest to illustrate the Sea of the West."  This famous Sea of the West in the Pacific Northwest of North America, is an erroneous depiction of an inland sea first postulated in manuscript form, but never published by Guillaume de l'Isle.  The first actual published depiction of the Sea of the West is attributed to Jean- Baptiste Nolin's world map first published circa 1700.  However, Nolin was barred from further publication of this depiction following a lawsuit by de l'Isle.  Nolin was thus forced to alter the depiction of the mythical inland sea as to one that is shown in the current map. 
Another important depiction that is interest is the treatment of a Northwest Passage that is clearly shown beginning in the Pacific Northwest and is drawn straight to the top end border of the map, thus implying a direct river route from the North to the riches of the Pacific. Nolin in addition draws the fictitious Rivière Longue, which was first mapped by Baron Lahontan in his Carte que les Gnacistares ont Dessiné…1703.  The Rivière Longue provided the possibility of an internal river route to the Pacific from the Great Lakes region.
The map also incorporates other noteworthy cartographic anomalies and speculative depictions such as the drawing of Florida as an archipelago, the over large portrayal of New Zealand's Northern coast, and the highly whimsical portrayal of the South Sea islands.
It is interesting to note that the map is dedicated to Monseigneur Law, the French controlleur général des finances under Louis XV, and who was responsible for  a speculative land sale scheme that led to the Mississippi bubble of 1718-1720.  
(Sources:BLR #19999)