L'amérique divisee par grands Etats par le Sr. Janvier Geographe.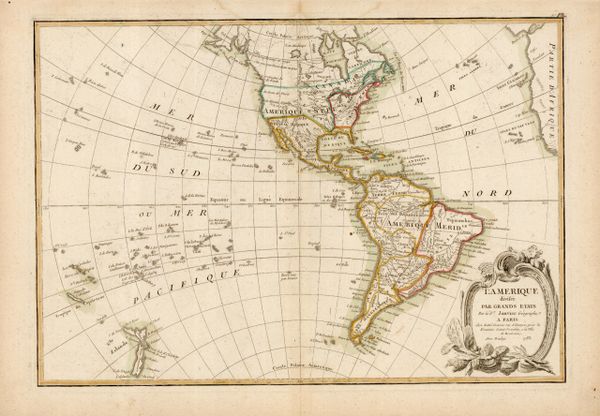 L'amérique divisee par grands Etats par le Sr. Janvier Geographe.
JEAN JANVIER
Size: 17 3/4" X 12"
Description: 
A beautiful map of the Western hemisphere that was published in Jean Lattre's Atlas Moderne.  This rare map was published shortly after James Cook's famous third voyage in search of the Northwest passage in 1776-79.  As such, the coast on the Pacific Northwest as well as the islands in the Pacific are depicted with greater detail and accuracy than maps printed a just a decade earlier.  It is worth noting that Janvier's map also makes a better attempt to depict New Zealand as two Islands and mythical places such such as Lake Parima and El Dorado are no longer drawn in South America.  
Janvier, however, does continue to persist in noting some important misconceptions.  These include a reference to the fictitious entrance to the Northwest passage claimed by Admiral de Fontes.  This claim and the supposedly Rivière de l'ouest, which Janvier correctly omits from his depiction, were a hoax that famously made its way into a map by Buache and Delisle in 1752.  In doing so, the hoax and the myth that a river route existed from the Pacific to Hudson's Bay inspired numerous attempts to find the hoped for passage to the Orient.
Janvier's map also serves as a reminder of the political ramifications associated with the cartography of the 18th Century.  For example, Janvier avoids any mention of the English claims to New Albion on the Western coast of North America.  It is also interesting to note how far the the lettering of "Louisiana" stretch into what could be considered the newly formed United States.  Furthermore, the borders between British North America and French Louisiana are nebulous at best.  In fact, the colourist adds to the confusion by using borders that stretch into the former French colony of New France, which was transferred to Britain following the conclusion of the Seven Year War in 1763.
Janvier's map serves as a testament to the impulse towards greater scientific cartography and the limits imposed by political and existing world views.