Log Book for use of Junior Officers Afloat. C.V.L.N. /Log Book. Mr. C.V.L. Norcock / H.M.S. Hannibal Glory.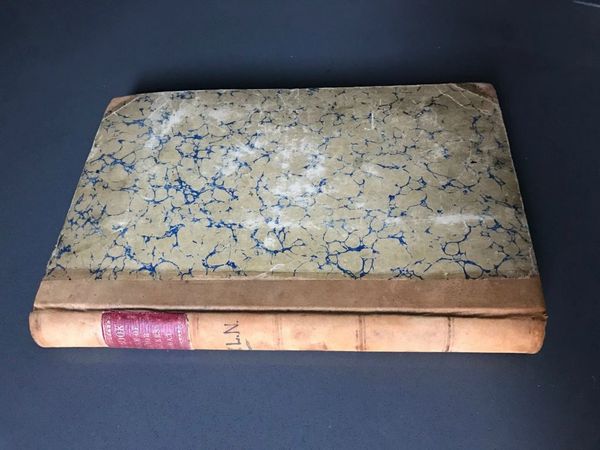 Log Book for use of Junior Officers Afloat. C.V.L.N. /Log Book. Mr. C.V.L. Norcock / H.M.S. Hannibal Glory.
Charles V.L. Norcock
Published May 15, 1900 
Size: 13.75" X 9"
Condition:  Very good. Folio, half calf over marbled boards (rubbed), spine with contrasting red Morocco, title label lettered in gilt and manuscript initials of the owner.  Marbled endpapers; manuscript in ink on feint-ruled paper.
Description: 
A British naval log book by Commander Charles Vernon Lowcay Norcock, for the flagship of the Royal Navy's China Station, the H.M.S. Glory, as well as logging his voyages aboard the H.M.S Hannibal and ultimately aboard the H.M.S Aurora.  Norcock's log book is of exceptional historical value because it was written during and shortly after the Chinese Boxer Rebellion, and interestingly, also includes a an entry dated January 22nd 1901 highlighting the death of Queen Victoria and the passing of an Era that saw Britain attain imperial domination over an Empire that controlled an estimate of 23% of the world's population and 24% of its landmass.  As the flagship to the British Naval command formation known as the China Station that was responsible for patrolling the coasts of China, its navigable rivers, parts of the Western Pacific Ocean and the waters around the Dutch East Indies, the H.M.S. Glory would have been instrumental in protecting British commercial interests in the region as well fortifying the foreign policy objectives of Great Britain at the apex of its imperial power.  The Boxer Rebellion's anti-imperialist goal of driving out all foreigners from China in 1900, would have been of utmost concern to British ambitions and colonial rule throughout its empire.  As such, Norcock's log book provides an important record of the H.M.S. Glory stationed at Wusong, the British naval base near Shanghai, with the intent to protect the major trade artery emanating from the Yangtze River.
The log book also is of value because of the inclusion of several manuscript maps signed by Norcock of major East Asia ports such as; the rarely charted Tolo Harbour of Hong Kong, as well as, Shanghai, Singapore, Kowloon, and Nagasaki.  Other important manuscript maps of different ports of call and locations are also incorporated.  These include, but are not limited to, the Suez Canal, Aden, Yemen, the Bay of Bengal, the Arabian Sea, Valletta, Malta, Gibraltar, Portsmouth, England.  In all, the log book has 27 manuscript map that provide an interesting visual representation of the ports and major arteries of imperial power at the turn of the 20th Century.