Map of the City of Ottawa.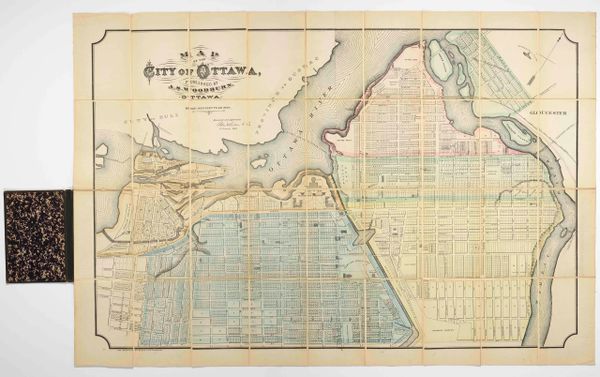 Map of the City of Ottawa.
Alex S. Woodburn
Published 1885, Montreal.
Size: 50" X 33"
Description:
A very rare city plan of the Canadian capital city, Ottawa, published by A.S, Woodburn and printed by George Bishop & Co. Steam Lithograph of Montreal.  It is argued that this city plan "is one of the earliest acquirable large-scale city plans of Canada's national capital."
The map provides a detailed depiction of the young city 30 years after its founding in 1850 and less than 25 years after being designated as the capital of the Province of Canada.  Ottawa is situated on the South bank of the Ottawa River across from the Province of Quebec at the confluence of the Ottawa, Gatineau and Rideau rivers. The city was historically well located as an important hub for the transport of primary resources, such as furs, timber and mineral from the outer reaches of its large watershed onto export markets.  Its strategic location was also made apparent after the War of 1812 when Lieut. Col. John By began constructing the Rideau Canal in 1826, and laid out the town plans of what would eventually become the city of Ottawa, that linked up the Ottawa river near the Chaudière Falls to Kingston on Lake Ontario.  The canal thus provided an alternate commercial and defensive route from possible American attack on the St-Lawrence and Montreal.  Interestingly, it was Sir John Franklin, the famous arctic explorer, that laid the first stone of the Rideau Canal locks in 1827.  The canal was completed in 1832 and along with the continued immigration to the area created the impetus for the development of this small lumber town that became the nexus of political and administrative power for the young British colony and eventually the Dominion of Canada in following  Confederation in 1867.
It is interesting to note that this city plan was published the year that electricity came to Ottawa following the Chaudière Electric Company's construction of a power station at the Chaudière Falls, thus providing a reliable source of power to its young nascent economic community.  It  was also, importantly, the year that the Ottawa Evening Journal, published by the same publishers of this map, A.S. Woodburn, was founded servicing a population of over 25,000.  Thus the city plan was published during a very important economic and intellectual time for the young capital.  It is possible that the city plan was published in conjunction with and to celebrate these historical events that took place in 1885.
This city plan is thus a very important historical artifact that celebrates major events in the early development of Canada's capital city, Ottawa.