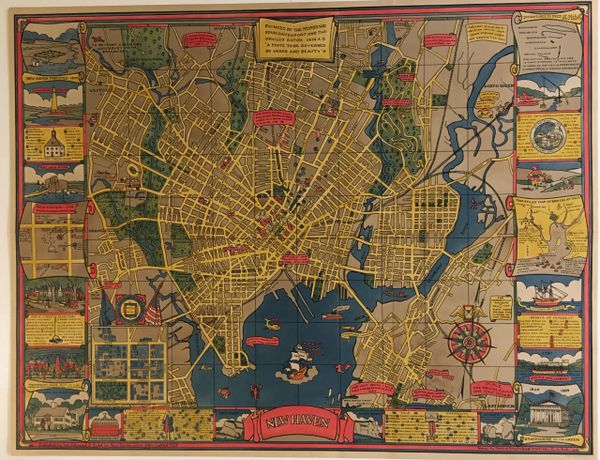 Mortimer, New Haven.
CARINA EAGLESFIELD MORTIMER
Published 1928, New Haven Conn.
Size: 27.5" X 35.5"
Description:
A rare and beautiful pictorial city map of New Haven, Connecticut, that underlines the importance of Yale University in particular that was published by the Award P. Judd Co., during the 'golden age" of pictorial cartography.
The pictorial map is adorned with inserts that provide historical snippets of the city's history with special focus on Yale University.  In fact, Twenty nine buildings associated with the University are shown and identified numerically to a corresponding index on the lower right quadrant.  Other points of historical interests are also located and identified with other indexes that border the map.  Also in evidence is an insert that marks New Haven's historical association with the Reverend John Davenport and Theophilus Eaton when the city was founded in 1638.
As is the case with pictorial maps in general, the imagery is often associated with leisure and pleasure, yet providing important historical information to the viewer without regards to cartographic precision.  In this particular, instance, Carina Eaglesfield Mortimer, focuses on the city's historical association with one of the world's most renown institution of higher learning, while using fantastical cartographic imagery, such as sea monsters, sailing ships and a wind rose, that date back to early cartography.
This map is thus important in that it was produced in an era when cartography and imagery were used in a playful manner to convey important social messages and to tease out the essence of a geographical or social locale.