Nouveau Plan Routier de la Ville et Faubourg de Paris...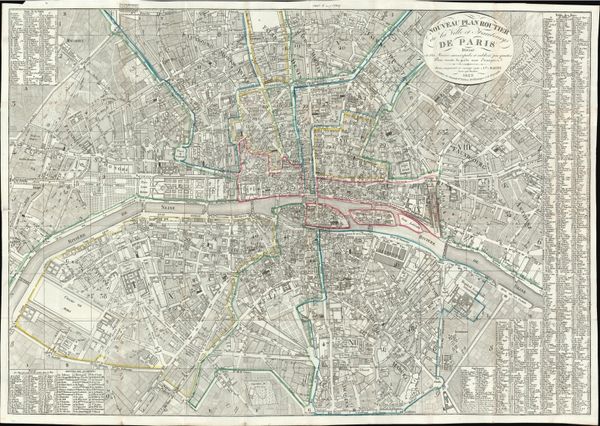 Nouveau Plan Routier de la Ville et Faubourg de Paris...
André Martin
Published 1823, Paris
SOLD
Size: 22.25" X 31.25"
Condition: Small tear repair measuring half an inch in upper left side.
Description:
A rare and beautiful city plan of Paris and its outskirts meant to be used as a city guide for visitors.  The city plan was issued by Esnault, a Parisian publisher of prints and maps that began to issue these guide maps in 1777.  This city plan has two insets that contain an index of the metropolis' road names.
To further help the traveller understand the map, the contours of the different Fauxbourgs are delineated with different colours.
This city plan that dates from 1823 is of historical interest because it predates not only the fortification projects that began in 1841 with city walls and fortifications being erected to protect Paris from foreign invasion, but also from the major urban renewal project spearheaded by Baron Haussmann in 1854 under the grandiose vision not only of Haussmann, but by the last reigning French monarch, Napoleon III that saw a major change in the city's medieval character being transformed into the modern plan that tourist experience today.
The city plan is also of interest in that by being published as an early tourist guide, shows how much Paris had evolved under the Restoration of the Bourbon monarchy following the defeat of Napoleon Bonaparte in 1815.  The Bourbon restoration period that saw Louis XVIII return to power lasted until 1830 and is credited with reversing many of the changes that were instituted during the French Revolution, and one that also saw the first public transport system being instituted, namely the canal network and the omnibus, as well as gas lights being installed and the creation of the city's first police force.  These changes are all testaments of a city that saw its population grow, its streets become more open and safer, and prosperity return to make it the centre of the French industrial revolution and help produce one of the great cities of the world.