Phelp's & Ensign's Traveller's Guide and Map of the United States...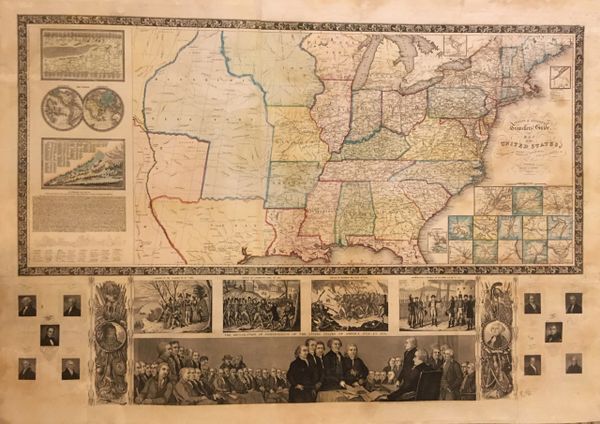 Phelp's & Ensign's Traveller's Guide and Map of the United States...
HUMPHREY PHELP & EDWARD H. ENSIGN
Published 1843, New York
Size: 27" X 41"
Condition: Professionally restored and backed on linen.  Few cracks and tears restored with minimal facsimile work.
Description:
An attractive and rare wall map depicting the United States of the mid 19th Century that was originally created by the publishing company of Phelps and Ensign in 1839 and updated henceforth to incorporate the region west of the Mississippi to the Rocky Mountains and additional insets.   Early versions of this map, including this 1843 edition, are important in that they show the United States and its then existing territory shortly prior to the annexation of the short lived Republic of Texas in 1845 by the United States which ultimately led to the Spanish-American War of 1846-1848.  
Indeed the popularity of this map in the 1840's and beyond is a testament not only to its sheer beauty and the informative attributes but also to the interest that the American public had in the growing confidence in their young Republic and their eventual Westward expansion. 
The map is also adorned with multiple inserts including a comparative view of the chief rivers of the world and their respective height including  principal towns situated on them, a double hemispheric depiction of the world, a comparative view of the principal mountains in the world with their altitudes, the unanimous declaration of [independence of ]the thirteen United States of America of July 4th 1776 and the signatories, American Presidents from George Washington unto President John Tyler.  In fact, one of the ways that the different editions differ is in the addition of the portraits of the Presidents as they evolved.  Thus the 1845 edition of this map would have had the portrait of Presidents James Polk added to the roster.
Other vignettes include the landing of the pilgrims in 1620, the Battle of Lexington and the Battle of Bunker Hill in 1775,  Washington's farewell to his army in 1783, and lastly the depiction of the signing of the Declaration of Independence in 1776 flanked by two cartouches of sorts with one depicting the native King Philip in 1676 and the other of George Washington.  Finally 15 insets are included depicting important American cities and their surroundings such as New York, Philadelphia, Charleston, etc.

An overall attractive map of the United States.