Pictorial Map of the Caucasus USSR.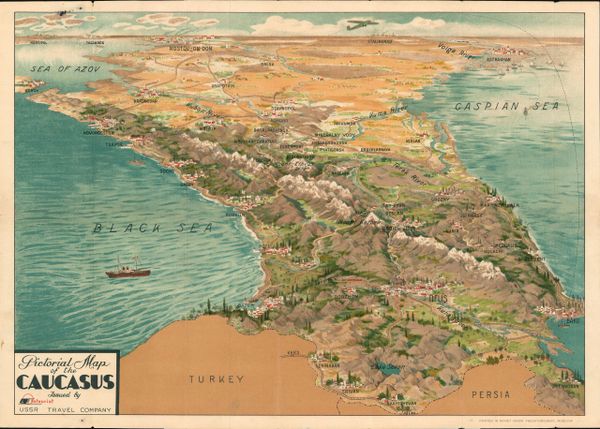 Pictorial Map of the Caucasus USSR.
Intourist
Published c.1930, Moscow
Size: 17.25" X 24.25"
Description:
A rare and visually striking pictorial map of the Caucasus to lure would be foreign tourists to travel and visit different regions of the Soviet Union under to guidance of Intourist.  Intourist  was the Soviet travel company/monopoly established in 1928 during Stalin's regime but prior to the commencement of the hostilities associated with World War II that brought tourism to a standstill.
The region depicted includes the area surrounded in the West by the Sea of Azov and the Black Sea and the Caspian Sea in the East.  This Crimean region which can also be observed on this pictorial map was long known as a popular holiday destination and it was hoped that  Caucasus would be as well.
Intourist targeted would be tourists from Western countries such as the United States, England as well as those from Europe to portray the USSR as a welcoming tourist destination that would help bring in hard currency into the Soviet Union as well being part of its "cultural diplomacy" with the outside world.
Unlike soviet propaganda that used a style known as Socialist Realism to help indoctrinate its local population, travel posters and brochures for foreign consumption was more akin to a western advertising based on a style, as witnessed by this pictorial map, that was prevalent in  western media of this era.
The pictorial style helped portray the region not only as exotic, but accessible, safe and inviting.  The reality of suppression of dissent by local institutions and nationalistic forces against rapid industrialization, however, belied this propaganda.
To that end, posters as a means of advertising and of mass communication help create brand awareness through positive association with visual effects that will help elicit powerful emotions from the viewer in much the same way that war propaganda worked to justify actions taken or solicited.  With the use of non threatening images to depict the Caucasus as a travel destination, Intourist attempted to create an instantly recognizable world.  By drawing the region without borders and with the use of standard  imagery, such as planes and cruise ships, the viewer is enticed to see one world as welcoming, non threatening and without boundaries or constraints that modern travel permits.
This map is a rare testament to the power of imagery during the Soviet era not only when it was used in internal propaganda, but also for the use it provided in controlling the narrative to the outside world.