Pollo Settentrionale, O Boreale et Artico.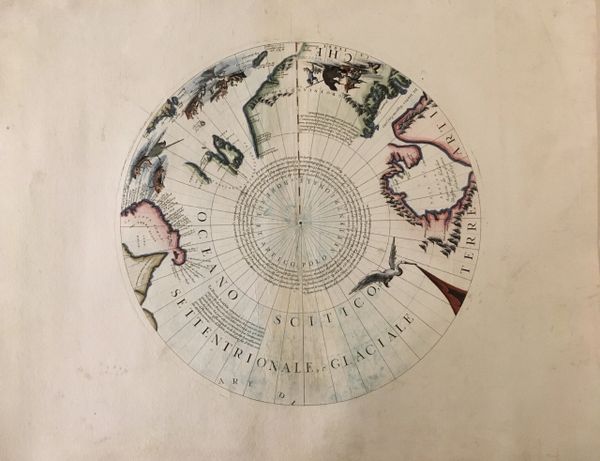 Pollo Settentrionale, O Boreale et Artico.
VICENZO CORONELLI
Published c. 1690, Venice
Size: 15"  Diameter
Condition: Tears expertly restored.
Description:
A beautiful depiction with rich colour of the North Pole and and the Arctic Circle from one of the 17th century's most talented cartographers.
The work of Coronelli is often deemed important not only for its stylistic virtuosity but also for his depiction of the world using the most up to date information.  As such, Coronelli's talent was first witnessed when he constructed a globe 5 feet in diameter for the Duke of Parma in 1678.  This work would lead to his being commissioned by Louis XIV to construct a pair of globes in 1681.  This commission would allow him access to important cartographic information from french explorers especially those concerning New France and North America in general. With the completion of these globes, Coronelli's reputation was cemented, and demand grew for his work.
After his return from France, Coronelli founded the Accademia Cosmografica degli Argonauti, in 1684, the world's first geographic society, whose function, it is said, was to promote his works.
This particular map is actually a polar calotte, or the polar gore for a large terrestrial globe that would have measured some 110cm. It would have been published in Corso Geografico Universelle in 1691.  Coronelli's depiction of the Arctic is interesting as it indicates the areas discovered by early explorers such as Henry Hudson, William Baffin, John Davis, and Willem Barentsz.  Interestingly, he also mentions Herico Russo's (Erik the Red) discovery of Greenland in 982, as well as the Norse departure from the area in 1379.  That being said, his polar calotte, as well as his well known polar map Terre Artiche, also published in 1691, are derivatives of the Jansson map of the Arctic.  However, the major difference with Coronelli being with his depiction of the Hudson and Cumberland Straits in the North of America and the joining of Nova Zemla to the Siberian mainland.  It should be noted that depictions and explorations of the North had important geopolitical significance.  The goal of many polar explorations were to find the much coveted Northwest and/or Northeast Passages to gain access to the Orient.
As such, this map, or polar calotte, is sought after by collectors for its beauty and style associated with Coronelli, as well as its association with the search of a Northwest or Northeast Passage.
(Sources:North America's First Contact: Norse-Inuit Relations Anatolijs Venovcevs, Kershaw, #169.)