Tabula Mundi Geographico Zoologica sistens Quadrupedes...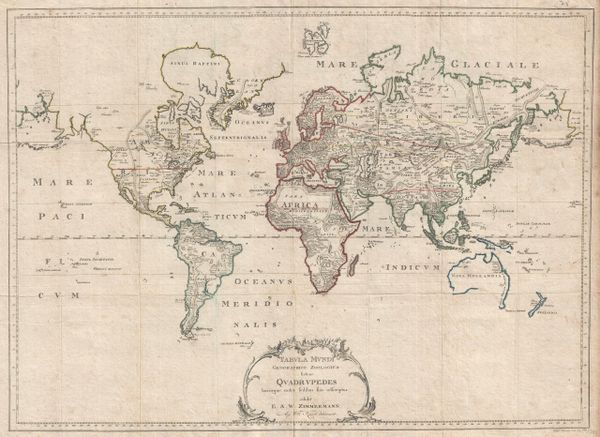 Tabula Mundi Geographico Zoologica sistens Quadrupedes...
E.A. Wilhelm Zimmermann
Published 1783, Ausgberg
Size: 26.5" X 19.2"
Description:
A rare and fascinating map originally published in Wilhelm Zimmermann's  Specimen Zoologiae Geographicae in 1777 and then re-issued with cartographic updates following the travels of James Cook in Geographische Geschichte des Menschen under Allgemein Verbreiten Vierfüssigen Thiere in 1783. 
The importance of this map is based on the fact that it was the first thematic map of the world based strictly on zoology whilst ignoring geo-political boundaries.
Thematic mapping, whether by the likes of Heinrich Scherer, Philippe Buache, or, in this case Zimmerman, provided the viewer with a different way of looking at the natural world.  Although scientific pursuits emanating from the Age of Enlightenment first began to make itself felt in cartography with better and more precise surveys brought upon by the use of triangulation, this scientific pursuit also allowed for new world views based on specific themes to emerge and thus offer better ways to understand our world.  As such, whereas triangulation provided better depictions of the geo-political boundaries, greater understanding of our natural environment did away with these arbitrary political boundaries.  Zimmerman's work also provided with a visual way to classify species based on their geographic distribution rather than simply detailing the classification related to the species involved.
It is of note that it is claimed that Zimmerman "was one of the first to comment on inconsistencies between animal creation stories and animal distribution."  That being said, it is thus interesting that Zimmerman provides a change in the way the world was seen and classified even though contemporary scientific thought believed that species were not mutable and the concept of evolution, as expounded by Charles Darwin, was still some 75 years in the future. 
The current example is the second state published in Geographische Geschichte des Menschen, with either the first or the second states being rarely seen on the market.