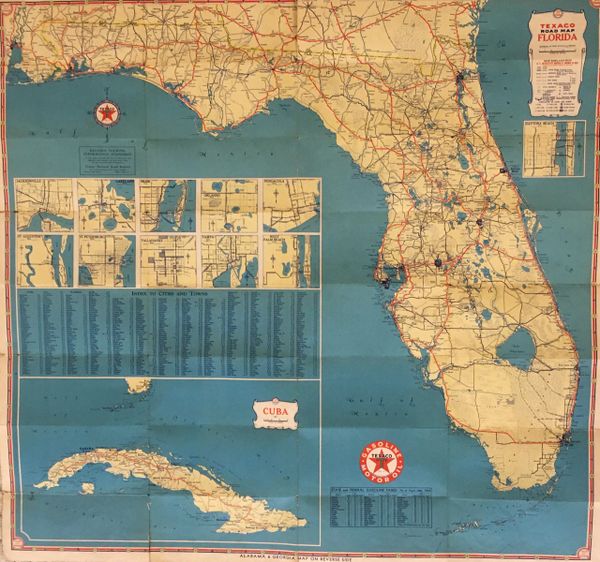 Texaco Road Map Florida.
Rand McNally & Company
ON HOLD
Published 1935, Chicago
Size:29.5" X 27.75"
Condition: many separations at old folds.
Description:
A Texaco road may published by Rand and Mcnally & Co. of   Florida and of Alabama and Georgia on the verso.
The map of Florida provides an overview of the US interstate Highways and road system of the mid 1930s as well as giving an approximation of the population of the different cities and towns.
The map also has a large inset of Cuba, a destination then associated with leisure and excitement. Also depicted are eleven other insets of other cities that include; Daytona Beach, Jacksonville, Lakeland, Miami, Orlando, Pensacola, St. Augustine, St. Petersburg, Tallahasse, Tampa, and West Palm Beach.
As already indicated, on the verso is found in a similar style and format a road map of Alabama and Georgia with insets of Birmingham and Atlanta.
Ever since the introduction of the Ford Model T in 1908, the first truly affordable automobile for the middle class, a whole new travel industry was created that required not only service stations to meet the needs of drivers and their passengers, but maps were also published to offer these new modern day explorers with the cartographic means for them to reach the destinations of their desires.
As this map demonstrates, the extant of the development of the road and highway system across the American continent  and so few years is staggering.