The Geographical Ledger and Systematized Atlas... PRICE AVAILABLE UPON REQUEST.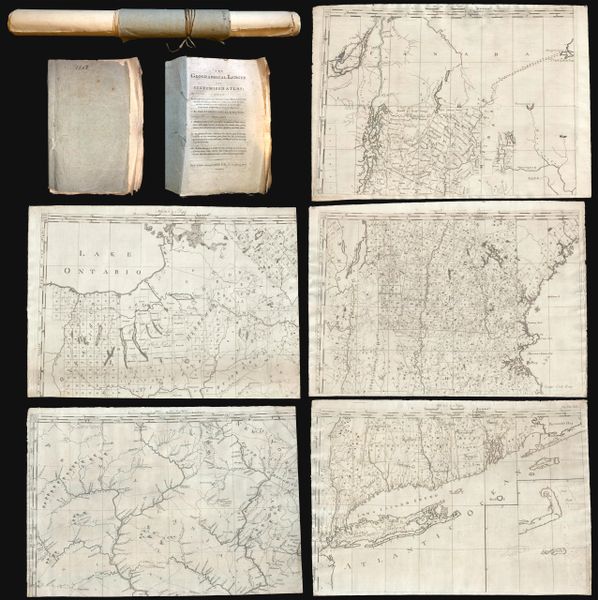 The Geographical Ledger and Systematized Atlas... PRICE AVAILABLE UPON REQUEST.
CHRISTOPHER COLLES
PRICE AVAILABLE UPON REQUEST.
Published 1794, New York
Size: Letterpress pamphlet plus folding diagram, in original wraps labeled "1548".  Accompanied by five untitled engraved map sheets on laid paper, each measuring 14" X 20.5" at neat line plus margins.
Condition: The pamphlet is untrimmed with minor foxing and wear.  Very minor soiling and edge wear to map sheets, of which three are trimmed close along one or two edges, with occasional loss to neat line.
Description:
One of the two most complete extant example of Christopher Colles' unfinished magnum opus The Geographical Ledger. The Ledger  was meant to be a loose-leaf indexed atlas of the United States that, had it been completed, could have been combined into a single enormous map.  While not the first large-format American map, the Ledger, even in its unfinished format, is unprecedented in its size and detail, and is the first general map to identify such items as early American forges (furnaces), mills, roads, farmsteads, property owners, road side inns, fledgling settlements, early county configurations, etc.  The Geographical Ledger was a work of boundless ambition that exceeded not only Colles' meager funds, but also the needs and values of the time.  Nonetheless, the Ledger, even though unfinished, stands out as the masterwork of an unrecognized genius in pursuit of grandiose visions ahead of his time. 
 The current example of the Geographical Ledger consists of five large map sheets, each measuring about 14.5 x 20 inches covering roughly 2 degrees of latitude and 4 degrees of longitude and one "ledger" or index.   The maps are on a conical projection with coverage extending from roughly Montreal to New York City, and inland as far as Lake Ontario and the Finger Lakes.  At the top of each map there are three lines indicating graduations of longitude from Paris, London, and Philadelphia, respectively.  The maps each feature a key in the upper left with three numbers, the middle number refers to that map, and the numbers above and below to the adjoining sheets.  The maps, with their corresponding numbers, include:  
 
1458 – Western New York and Lake Ontario;
 1548 – Pennsylvania and New Jersey; 
 1369 - Northern Vermont, Northern New Hampshire, Vicinity of Montreal;
 1459 – Massachusetts, southern Vermont, southern New Hampshire, southern Maine;
 1549 – Connecticut, Long Island, New York City, northern New Jersey.
 It is interesting to note that Colles' vision for the Ledger called for it to be expanded to cover not only the United States, but, eventually the entire world, as was indicated in his introduction to the work; 
 
"As a great number of foreigners are continually arriving in this country, it appears feasible to me, that the maps of some parts of Europe, Asia, or Africa, might be with purchasers.  I therefore thought it advisable to form the design universal." 
 
Colles moreover intended each map to be accompanied by a 'ledger' or index.  The ledgers are in the same format as his previously published Survey of the Roads from which he intended various updated and newly printed maps to accompany each ledger.  Furthermore, most  examples of the Ledger are bound in Colles' signature blue paper wrappers identical to those used for the Survey of the Roads.

The Colles System 

Colles found most of the maps of his period oversized and cluttered, and as a consequence, hard to read, maintain, and use.  To resolve this issue, he imagined the Ledger as a manageable, ever expanding, loose-leaf atlas with manageable map sheets measuring no more than 14.5 x 20 inches.  
He thus introduced his novel gridded coordinate-based index system to remove extraneous engraving and yield a more open and spacious yet information laden map. As a result, although  his maps lack place names, geographical locations are referenced using the accompanying index/ledger and lettering system.  Each 'ledger' has two sections, a 'References' section and an 'Index'.  Thus, by studying the map with the aid of the ledger, one could reference various grid blocks and have a good understanding of the transportation network, resources, and development level of the region.
 
The 'references' section of the individual 'ledgers' are followed by a more traditional 'index', which, like most modern maps, lists towns and villages in alphabetical order with assigned coordinates.  In some cases, referenced locations are described textually on the map, while in other cases they are assigned letters in the index, which appear instead of the place name on the maps. 
 
The Engravers

The maps exhibit at least three different engraving styles.  

-Plates 1369 and 1549 both bear the imprint of Eliza [Elizabeth] Colles – Christopher Colles' 17-year-old daughter.  
-Plates 1459 and 1548 exhibit a complementary style that is similar, but more refined than that of Eliza's. It could very well be the hand of Christopher Colles himself, as it is likely that these were the first plates that he would have had engraved given his expertise with the region, a legacy from his civilian work during the American Revolutionary War (1775 – 1783) and shortly thereafter.  
-Plate number 1548, for which we also have the index, exhibits a more professional and formal engraving style. 

It should be underlined, that plates 1369 and 1549, (and, possibly, plates 1459 and 1548) represent an important landmark in American cartography as they are the first maps engraved by an American woman with her imprint.  Furthermore, her imprint also appears on the two projection diagrams appearing at the back of the 'Ledger'.  It should be noted, however, that there is some evidence that Elizabeth Colles possibly died in 1779, but her imprints on the Geographical Ledger seems to suggest otherwise.  Given the vagary of records, it is also possible that 'Elizabeth' and 'Eliza' were different people and is thus subject to future research by historians. 
 
Historical Significance

The fact that the Geographical Ledger was a financial failure, possibly as a result of the critical financial state of his publisher, John Buel and Co. in 1794, does not diminish its historical importance even though it is possible that only one example (or none at all) of the Ledger was sold in Colles lifetime. It can be presumed that the Geographical Ledger would have been an invaluable resource as the first comprehensive American map covering all of New York and New England which contained considerable details regarding country estates, gentlemanly seats, mills, roads, and farming tracts. As such, Lloyd W. Griffen, writing for the Bibliographical Society of America notes; 
 
"…the value of Colles' work as a cartographer is not to be measured by the contemporary success of failure of his Survey of the Roads and his Geographical Ledger.  Though he was termed by acquaintances as a visionary, he had only the misfortune of being at least a generation or two in advance of his time.  He was attempting to force a thoughtful and systematic plan for mapping a new nation on a public which was unwilling – and perhaps unable – to sustain it.  The remnants of his two bold schemes preserve for later generations a view of a part of America as it was as the end of the 18th century. Their significance as a primary source material of historical geography and of American cartography cannot be disputed." 
 
Provenance
Given the extraordinary rarity of the Geographical Ledger some notes on provenance are in order.  This map was acquired at auction by a New York gentleman in a trunk with other items approximately 20 years ago on July 12, 1998.  The auction, run by 502 Auctions, was selling the contents of the 1804 Van Horne House Music Conservatory and Carriage House in Van Hornsville, New York (near Cooperstown).  The property belonged to the estate of the American industrialist and RCA founder Owen Daniel Young (October 27, 1874 – July 11, 1962).  While it is unclear how the map came into Young's hands, the location of the auction (Upstate New York, Colles' Revolutionary War period stomping ground) suggests that the material was most likely acquired by, or transferred to, contemporaries of Colles.