V. Clementi, La Battaglia dell'atlantico. la guerra nel pacifico.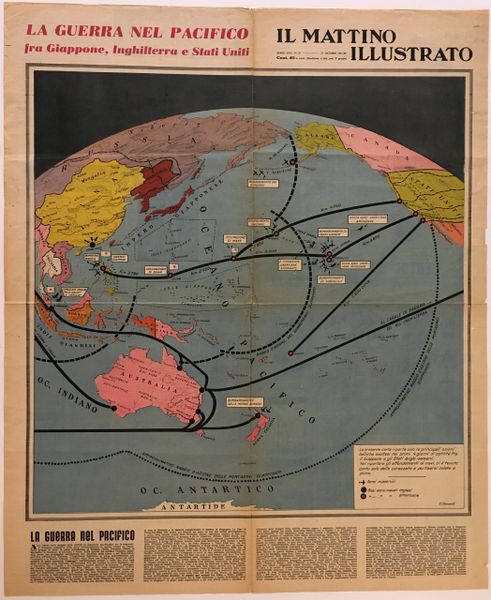 V. Clementi, La Battaglia dell'atlantico. la guerra nel pacifico.
V. CLEMENTI
Published December 15 and 21, 1941, Italy
Size: 28.5" X 23.5" each.
Condition: Newsprint.  Light wear and toning along original centrefold.  Test and images printed on verso.
Description:
Two very rare depictions of the Atlantic and Pacific theatre of World War II published shortly after England and the United States declared war on Japan, following the attack on Pearl Harbour (December 8, 1941) ,and Germany and Italy declaring war on the United States (December 11, 1941).
These two depictions were published in in Il Mattino Illustrato  a magazine founded in 1892 and published in Naples. 
These depictions of the two theatres of war, which were now being fought on a global scale pitting fascist regimes against an array of allied forces, were published during Mussolini's regime and were part of the Italian state's propaganda effort to provide a favourable viewpoint of the conflict.
The La Battaclia dell'Atlantico depicts the Atlantic theatre of war from the North American seaboard, including parts of Central and South America and Western Europe and parts of Greenland in the North Sea and parts of Western Africa.  Interestingly, the depiction does not include all of Europe or of Italy, but focuses strictly on the Atlantic and situates the American naval and air bases as well naval supply routes and their distance to England and the extant of Axis and Allied air cover and the range of effective Axis submarine action.
The La Guerra Nel Pacifico fra Giappone, Inghilterra e Stati Uniti, which was advertised in the prior week's La Battaglia dell'Atlantico, depicts the Pacific theatre of war from the Asian sea board including British and American air and naval bases as well as encompassing Russia, Japan and Japanese controlled Manchuria, China, Australia, New Zealand, and the American Pacific seaboard.  The map depicts important battles such as the bombing of Pearl Harbor and Honolulu, Midway, Manila and the locations of the sinking of American air carriers in the Pacific.  The map also provides distances, shipping routes and areas under Japanese control.
Both maps have descriptions below the cartographic images that describe in detail the Battles in the Atlantic and the Pacific.
As such, these two ephemera items, published soon after the declaration of war between the United States, Japan, and the Axis powers, are important reminders of the power of visual cartographic images to convey to the viewer an immediate understanding of the forces that are in effect in the different theatres of war.  Not only is the imagery focused on providing information, but also attempts to shape the narrative.