Buache, Plans des Isles, Rades, et Ports de plusieurs Lieux de l'Amérique...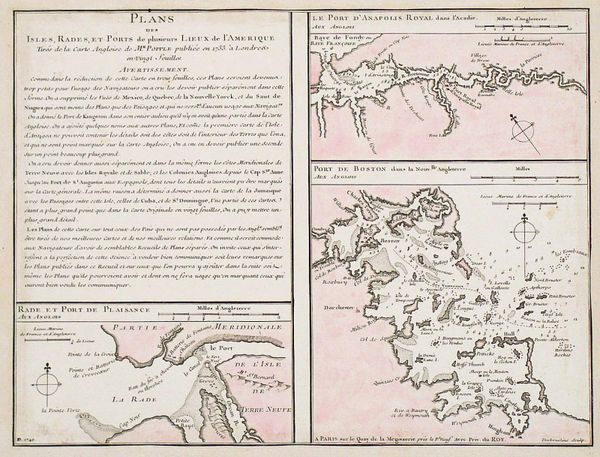 Buache, Plans des Isles, Rades, et Ports de plusieurs Lieux de l'Amérique...
HENRY POPPLE / PHILIPPE BUACHE
Published (1733) 1740, Paris
Size: 31.5" X 21.25"
Condition: Trimmed to neat line at an early date and mounted on 22"X15" sheet.
Description:
A very rare adaptation of Henry Popples' charts of the harbours of Boston, Annapolis Royal, Nova Scotia, and Placentia Bay, Newfoundland, by Philippe Buache.  Buache is considered one of the great cartographers of the 18th Century and is often associated with his brothers' in law, Guillaume and Joseph-Nicolas Del'Isle, who brought a more scientific approach to cartography.  Buaches Plans des Isles, Rades et Ports… is considered to be extremely rare whether as a stand alone sheet on within the composite Atlas in which it was published.  Only three copies are known to exist in institutional libraries; those of the John Carter Brown Library, the Leventhal Map Center and the Bibliothèque National. 
The three charts, which originally were insets from Popple's 1733 Map of the Bristish Empire in North America, are set beside an advertisement by Buache that lists some of the updates made to Popples' charts as well as commenting on the need for navigators and cartographers to continue to submit their observations of the areas in question as the charting was considered incomplete.
Buache's adaptation of Popple's work is of interest because of the timing of the publication.  The composite Atlas in which this sheet was bound, was published at the start of the War of the Austrian Succession that lasted from 1740 to 1748.  This war would eventually reach North America under what is commonly known as the King George's War (1744-48), that pitted the forces of Britain against those of France for the control of each other's North American colonies.
Although the Treaty of Aix-la-Chapelle in 1748 brought an end to the European conflict and restored the colonies back to their former European masters antebellum, North American colonies would once again be subjected to territorial conflict with the start of the Seven Years' War that began in less than a decade. 
As such, Buache's three charts on this single sheet is of interest as it provides an indication of the state of the charting knowledge of important areas in North America at the dawn a global conflict.