ПЛАНЬ С. ПЕТЕРБЧРГА. / Plan S. Petersburg.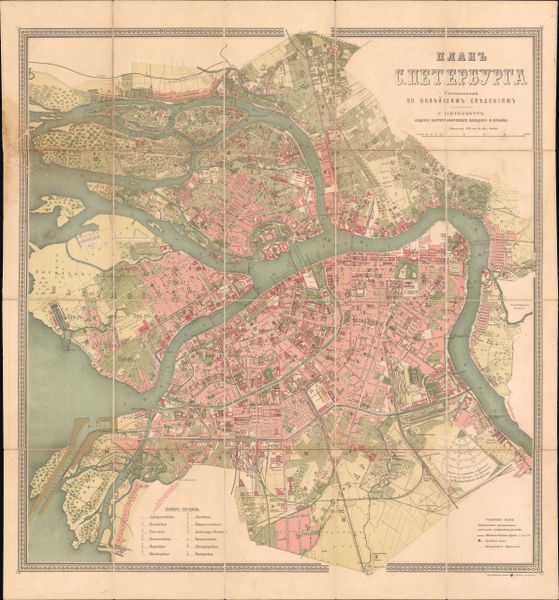 ПЛАНЬ С. ПЕТЕРБЧРГА. / Plan S. Petersburg.
Cartographic Establishment of Alexey Ilyin
Published c.1887, St-Petersburg
Size:29" X 27"

Condition: Good. Dissected and mounted on linen in twenty panels.  Upper left panel exhibits some damp staining and infill. Blank on verso. Accompanied by original binder.

A very rare coloured lithograph city plan of St-Petersburg, Russia, with major landmarks, such as the Winter Palace, the Peter and Paul Fortress, the Mikhailovskoy Palace, and the St. Petersburg State University, clearly identified.  This city plan was published by the prolific Cartographic Establishment of Alexey Ilyn, which, at one time, published over 90% of all civilian maps in Russia.  This institution was eventually nationalized and became the First Sate Cartographic Enterprise following the 1918 Russian Revolution.
This city plan is considered one best known images of St-Petersburg in the late 19th Century.  The city of St-Petersburg founded in 1703 by Peter the Great, eventually became the capital of Russia in 1712, and remained so for a couple of centuries, notwithstanding a brief interlude from 1728 to 1732.  At its very conception, the design of the city was meant to be the "window to Europe" and was influenced in its architecture accordingly by emulating the grand cities of Europe such as Venice, Amsterdam and Versailles.  However, although  St-Petersburg eventually became Russia's most cosmopolitan of cities,  Peter the Great's grandiose plan to modernize Russia on an European model with St-Petersburg as its nexus, ultimately failed when the capital designation reverted back to Moscow in 1917 as a result of the Russian Revolution.
Yet, even thought the capital was moved to Moscow by the Soviets, St-Petersburg remained a vital and strategic city for the Communist regime.  This is because the city lies at end of the Gulf of Finland, an important strategic artery for trade and also for its naval defence.
As such, this city plan is coveted not only for its beauty and rarity, but is reminder of the strategic importance that St-Petersburg had on the historical development of the Russian state.