General Karte der sichtbarer Seite der Mondoberfläche.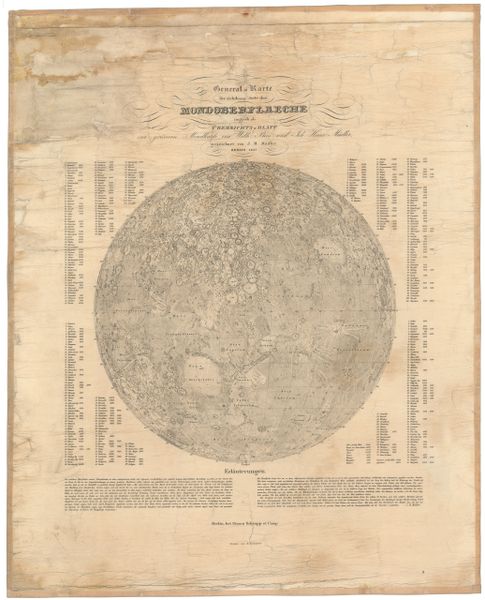 General Karte der sichtbarer Seite der Mondoberfläche.
JOHANN H. MÄDLER
Published 1837, Berlin
Size: 13.5" X 22"
Condition: Good. Mounted on linen. Areas of restoration with some loss of text.
Description:
A rare and richly informative map of the moon published by the Simon Schropp et Company.  It is an important map as it is the first separately issued drawing that correctly depicted the lunar surface.  It should be noted that the map was issued in the same year that Johann Mädler's published his important work Der Mond nach seinen kosmischen und individuellen Verhältnissen and came shortly after his four volume work Mappa Selenographica which was published between 1834 and 1836.  A similar depiction of the moon was also presented in a larger four sheet version.  These two published works and this separately issued map were thus very important for the scientific advancement in the field of lunar studies.
It should also be mentioned that Mädler is also renown for his work in publishing the first accurate map of Mars.  As such, Mädler's maps are a rare reminder of the scientific advancements not only in astronomy per se but also in the cartography of other planets and astronomical bodies that intrigued scientific researchers in the 19th Century.

Mädler's map of the moon is partitioned in quarters with their corresponding index that names 351 different lunar features with their height and depth.  His map also includes at that bottom an explanatory section useful for the understanding of the visual information presented.