Herve Baille, Quelques Voyages Recents de Bâtiments de Guerre.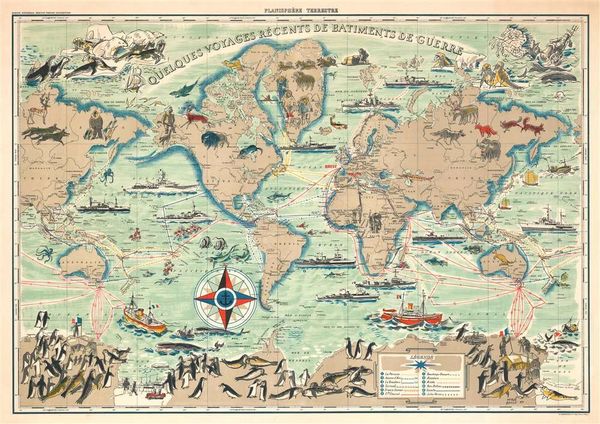 Herve Baille, Quelques Voyages Recents de Bâtiments de Guerre.
HERVÉ BAILLE
Published c.1954, Paris
Size: 28.5" X 39.75"
Condition: Closed margin tears, extending up to 1.5", professional repaired on verso.
Description:
A rare and beautiful pictorial world map tracing the routes taken by French warships, most likely, during and shortly after the Second World War by the graphic artist Hervé Baille, the French Navy's "peintre de la Marine" also know for his travel posters such as those for Air France.  The French warships include those of La Pérouse, Jeanne d'Arc, La Grandière, Surcouf, Françis Garnier, Commandant Charcot, Beautemp-Beaupré, Aventure, Ailette, Bois-Belleau, Gazelle, and the Jules Verne.  The pictorial map is adorned with different iconography throughout giving an overall sense of playfulness as well as remaining informative.  
As with many pictorial maps, the geographical information is secondary to the overall appeal and visual design that nevertheless conveys information.  In this fascinating example, the geopolitical information related to boundaries is almost non-existent.
Baille's map depicts a world in pictorial format that helps convey the image of a world of peace and easy accessibility.  It should be noted that other than hunter and gatherers, no other human form is depicted except for scientific researchers in the Antarctic. A stark contrast to a world ravaged by World War II less than a decade prior to its publication.  To that end, posters as a means of advertising and of mass communication help create awareness and influence through positive association with visual effects that elicit powerful emotions from the viewer in much the same way that war propaganda worked to justify actions taken or solicited through negative associations.  With the use of non threatening images to depict different countries and continents, Baille attempts to create an instantly recognizable world at peace.  Also, Baille maintains cartographic elements such as a wind rose and the ubiquitous Mercator projection and uses standard regional imagery, such as penguins near the antarctic, elephants in Africa, kangaroos in Australia, etc., that entices the viewer  to see one world as welcoming, non threatening and without boundaries or constraints that modern travel would come to allow.  Ironically, the imagery of warships become thus non threatening and are seen more in terms of exploration and safety.