L'Asie suivant les nouvelles découvertes…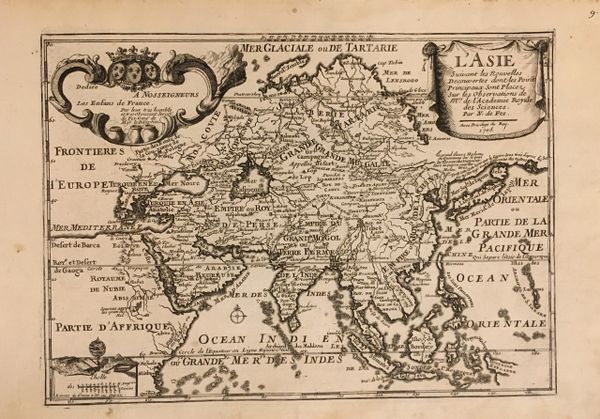 L'Asie suivant les nouvelles découvertes…
Nicolas de Fer
Published 1705, Paris
Size: 8.5" X 12.25"
Description:
An intriguing map of Asia drawn by a leading cartographer of the 18th Century, Nicolas de Fer.  The map was published in De Fer's Atlas Curieux ou le monde représenté dans des cartes générales… in 1705.
Although De Fer was a French cartographer, the source material for this map is primarily taken from the Dutch.  However, De Fer provides a notation that indicates that the land bridge connecting Northern Korea and eastern Siberia across to the Pacific Northwest of America, as well as the drawing of Japan, comes from Portuguese sources.  Other notations provide some political or cartographic information.  For example, he indicates the river from which the Muscovites use to navigate to make war on the Tartars.  He also indicates the region near  Cape Glace in the Lenskogo Sea where explorers have yet to sail.  It is argued that the cartography of this area is most likely based on that of Dutch cartographer, Nicolas Witsen.
It is also important to note some of the other misconception found on this map.  For example,  De Fer erroneously ascribes New Guinea with New Zealand, adds in the non existent lake of Chiamay that took some 60 years to disprove near present day India and incorrectly draws the Caspian Sea. 
This map would have been of interest to Europeans because Asia remained a region of intense rivalry between the Dutch East India Company, the British East India Company and the French East India Company who were vying to control of the nascent global trade in spices and in high value goods such as silks and porcelain.