Missions des Pères Carmes Déchaussés dans les Royaumes de Travancore et de Cochin au Malabar (Indes Anglaises).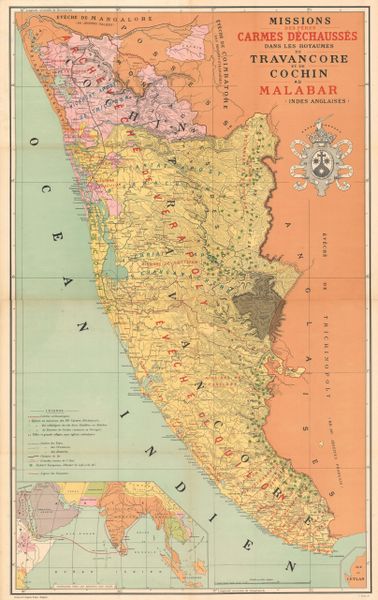 Missions des Pères Carmes Déchaussés dans les Royaumes de Travancore et de Cochin au Malabar (Indes Anglaises).
Pieter Raoux
Published 1892, Bruges
Size: 52.2" X 33"
Condition: Good. Wear on old fold lines. Minor repaired fold splits. Minor re-instated loss top left quadrant, fold intersection.
A very rare and visually stunning lithographic map, with only one other known copy, of the Malabar Coast of Southern India that shows the locations of the Discalced Carmelite Father's missions from Mangalore to Cape Comorin in the Kingdoms of Travancore and Cochin.  The map was published by the Société de St. Augustin in Bruges, a Belgian organization associated with the Societé Saint-Jean l'Évangéliste de Desclée who were focused on catholic pedagogy. 
The map, which is adorned with the Carmelite Emblem, depicts the different missions and their respective area of influence as well as detailing borders between missions, dioceses, cities and villages.  The The map also depicts roads, railways, tea and coffee plantations, as well as steamer routes.  An inset map in the lower left quadrant shows the itinerary towards the missions of India from the Mediterranean via the Suez Canal that helps visualize the extant of the sphere of influence in South East Asia.
The Carmelite missions on the Malabar Coast can be argued to have begun as early as 1604 with the explorations and work of early missionaries and the subsequent establishment of their first mission in Goa in 1621, which was until then, still under Portuguese influence.  Although European influence and control of the Indian subcontinent ebbed and flowed and eventually disappeared, the Discalced Carmelites remain to this day.
The map is important in that it was issued during what can be described as the apogee of British control in India.  However, the map clearly demonstrates the complexities of the social, religious and historical forces and institutions, both European and Indian in nature, that predate their arrival.  It is interesting to note that shortly after the publication of this map, British influence in the region would be challenged more forcibly with and Indian nationalist movement following the arrival of Lord Curzon as Viceroy in 1898 and his administration inability to fully appreciate these forces.