Nouveau Plan Planitinéraire de la Ville de Paris...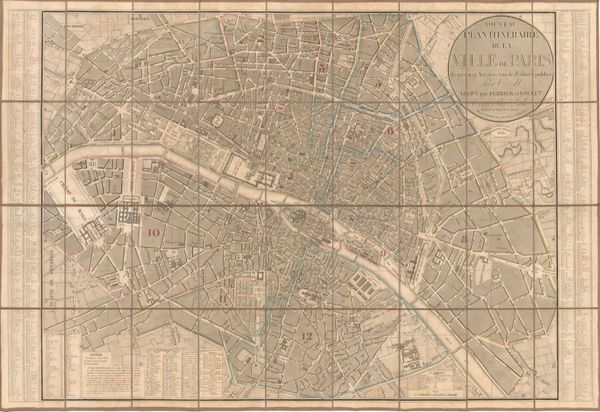 Nouveau Plan Planitinéraire de la Ville de Paris...
Perrier et Gallet
Published 1836, Paris
Size: 23.5" X 34.25
Description:
A rare and beautiful city plan of Paris with its 12 arrondissements and neighbourhoods issued by the printing company J. Andriveau-Goujon.  The city plan is of interest in that it provides a view of the city a few year following the Paris Uprising that was memorialized in Victor Hugo's Les Misérables.  Although the plan with its clear lines would seem to offer the image of an ordered city, in reality the area around the Île de la Cité was a labyrinth of narrow streets with crumbling infrastructure and an overall unhealthy environment.  However, juxtaposed with this image is that of the completion of major public works such as Place de la Concorde, the Luxor Obelisk, and the Arc de Triomphe in 1836, the very year that this city plan was published.  As such, although the population increased by 14% from 1831 to 1836, the relative importance of the central neighbourhoods dropped from 42.7% of the city's total population to 24.5% in this same time period.
This city plan that dates from 1836 is of historical interest because it predates not only the fortification projects that began in 1841 with city walls and fortifications being erected to protect Paris from foreign invasion, but also from the major urban renewal project spearheaded by Baron Haussmann in 1854 under the grandiose vision not only of Haussmann, but by the last reigning French monarch, Napoleon III that saw a major change in the city's medieval character being transformed into the modern plan that tourist experience today.
The city plan has five insets with different indexes.  Of particular interest is the index describing the nine public transportation lines offered to Parisians.
To help the viewer understand the map, the contours of the different Fauxbourgs are delineated with different colours.
In all, this city plan is of interest in that it provides a rare cartographic image of a city dealing with the nefarious effects brought upon the French Industrial Revolution but also helped usher in one of the great cities of the world.