Plan Routier de la Ville et Faubourg de Paris divisé en douze Mairiea.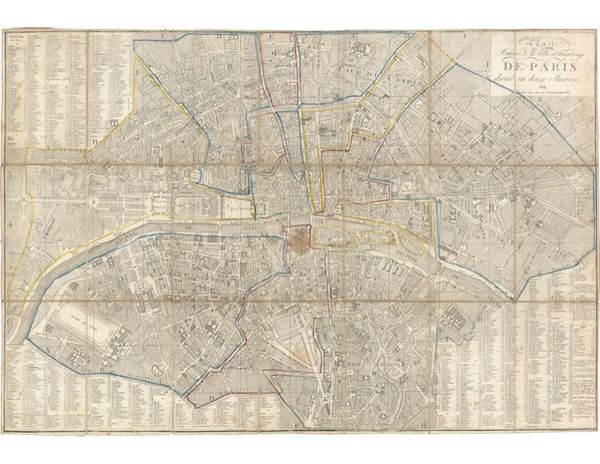 Plan Routier de la Ville et Faubourg de Paris divisé en douze Mairiea.
Pierre Jean
Published 1814, Paris
Size: 22.25" X 33.25"
Condition: Occasional staining, with one prominent stain at the centre.
Description:
A rare and beautiful city plan of Paris and its outskirts meant to be used as a guide to France's major urban centre.  The city plan was issued by the Pierre Jean, a Parisian publisher of prints and maps, shortly before the fall of Napoleon Bonaparte in 1815.  This city plan has three insets that contain a road name index of Paris.
To further help the viewer understand the map, the contours of the different Faubourgs are delineated with different colours.
This city plan that dates from 1814 is of historical interest because it predates not only the fortification projects that began in 1841 where city walls and fortifications were erected to protect Paris from foreign invasion, but also from the major urban renewal project spearheaded by Baron Haussmann in 1854 under the grandiose vision the last reigning French monarch, Napoleon III that saw the city's medieval character transformed into the modern plan that tourist experience today.
This city plan is also of interest in that by being published in 1814, it shows Paris prior to the Restoration of the Bourbon monarchy.  The Bourbon Restoration that saw Louis XVIII return to power lasted until 1830 and is credited with reversing many of the changes that were instituted during the French Revolution and the reign of Napoleon.  That being said, the Restoration brought many alterations to the city's character, namely, the first public transport system with a canal network and the omnibus, as well as gas lights being installed and the creation of the city's first police force.  Prior to these changes, Paris' street grid, as can seen with this plan, had become cramped with a decaying infrastructure.