Planisphère Elémentaire et Illustré Indiquant la description géographique des parties connues de la terre…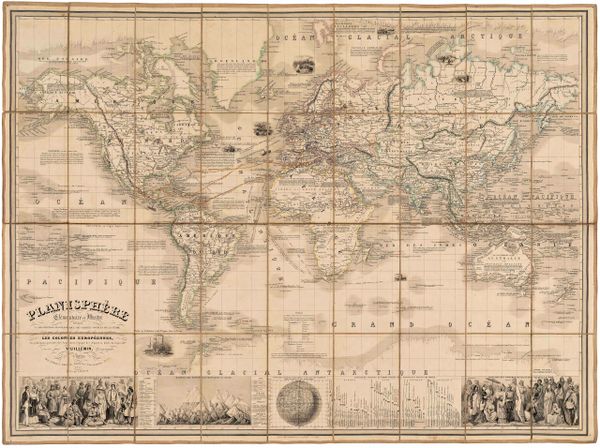 Planisphère Elémentaire et Illustré Indiquant la description géographique des parties connues de la terre…
Alexandre Aimé Vuillemin
Published 1853, Paris
Size: 35"X 26"
Condition: Original linen.  Minor blemishes, else excellent.
Description:

A rare and fantastic map depicting the state of the  world in the mid 19th Century.  The map is adorned by a couple of insets that show the clothing apparels of the different world populations, as well as the hight of some of the world highest mountain peaks, a table outlining the concept that maps are 2 dimensional figurations of a sphere, and a table showing the length and sources of the principal rivers. Also, adorning the map are images of ships involved with the different trades such as whaling near the antarctic or in the arctic seas , the cod fishery off the Grand Banks of Newfoundland or the Mackerel and Herring Fisheries in the North Sea.  These scenes are also complemented with traditional hunting scenes in the northern climes of Siberia.
The map also offers a wealth of information with a plethora of notations drawn throughout.  Not only do these notations provide information about the flora and fauna of different regions of the globe, but also provides historical information relating to certain discoveries and geographical occurrences such as locations of maelstroms.  In addition, trade routes and their durations are provided thus showing how the economic progress had, by the mid 19th Century, indeed become global in scope. 
It would not be lost on contemporary viewers of the importance of the map to show the different competing European colonial enterprises in all parts of the developing economic and trade system of the time.  As such, the colonial possessions of France and Great Britain are colour coded for easy recognition by the viewer. 
That being said, someone looking at the map today will also be struck with some of the changes that occurred within the geo-political sphere.  For example, Russian America no longer exists as Alaska was sold to the United States in 1867, some fourteen years after the map's publication.  Also of interest is the prominent notation related to the gold rush of 1848 in California that created the impetus for Westward migration in the North American continent..
As such, this beautifully crafted map, with its rich imagery and notations, provides collectors and map enthusiast alike, a rare glimpse of the mid 19th Century where the world was static yet ever changing.