Tackabury's Map of Canada West.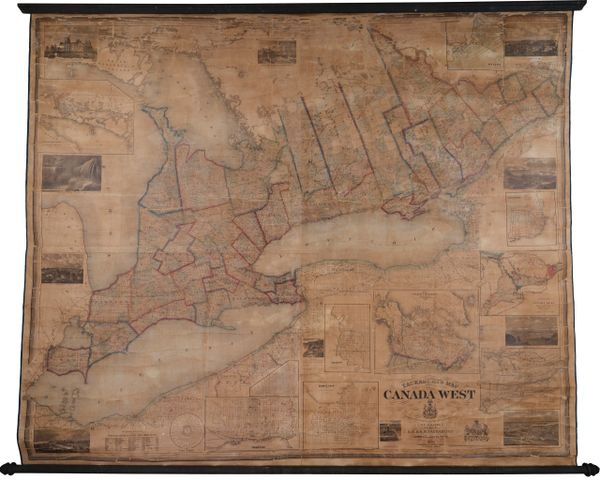 Tackabury's Map of Canada West.
Robert & George N. Tackabury
Published 1862, Canada West
Size: 75" X 60"
Condition: Professionally restored.
Description:
A rare wall map of Canada West (formerly known as Upper Canada) that was issued prior to Confederation in 1867.  The map has city views of Ottawa, Kingston, Montreal, Hamilton, Niagara Falls, Toronto, London, and the University of Toronto, as well as inset maps depicting these locales.  Other inset maps also include a geological map of Canada West compiled by the surveys of Sir William E. Logan, a Climatic Map showing the average temperature and the amount of rain fall for the region, a map of the British Possessions in North America derived from J.H. Colton, a table outlining distances of different cities from one another, a population index of the cities and counties for 1861, a time table, and finally a map of the North West Part of Lake Huron and Manitoulin  Island, the largest lake island in the world.  
The time frame of this map is of interest.  Canada West, due to the Reciprocity Treaty with the United States in 1854 and railway expansion linking  Montreal, Toronto, Sarnia and the US, was witnessing major industrial development and growth.  This economic growth fostered a population boom that altered the political dynamics between Canada East, with its mostly French speaking population, and Canada West with an array of immigrants stemming from England, Scotland, Ireland and the United States.   The census report depicted in one of the insets of the map shows that the population of Canada West in 1861, had increased to 1,295,222 compared to 952,004 in 1851.
Political reformers such as George Brown of the Reform Party and editor of the Globe began agitating for increased representation based population in the colonial legislature the Province of Canada that had combined Upper and Lower Canada in 1848.  The resulting political gridlock eventually led to the creation of the Great Coalition in 1864 between George Brown, John A. Macdonald and George-Etienne Cartier.  This coalition would go on to create Confederation in 1867 and to the dissolution of the Province of Canada which included Canada East and Canada West into the provinces that we now refer to as Ontario and Quebec within a federal structure known as the Dominion of Canada.
This map is thus of interest because it was issued at the hight of political gridlock in British North America when a concerted approach was needed to address pressing issues such as western migration into the North West territory and geo-political ramification of the American Civil War that had broken out the year prior to this map being issued.  Wall maps of Canada West, such as this one, are rarely seen on the market.