Ázsia. Jellemzöbb Gerinces Állatai.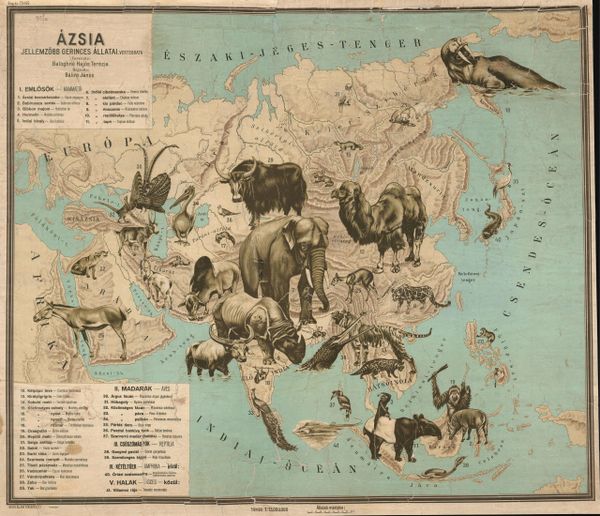 Ázsia. Jellemzöbb Gerinces Állatai.
Baloghné Terézia & Bálint jános
Published c.1928, Hungary

Size:32" X 37.25"


Condition: Average. The map has been stabilized and laid down on ph neutral paper.  Exhibits soiling, cracking, some loss, infill and edge damage.  Still, the map is so dramatic that it presents well.


A beautiful, very rare and intriguing thematic wall map depicting the fauna of Asia. The fauna, is classified in the tables in the lower and upper left quadrants into mammals, birds and reptiles.  This wall map, issued by the Magyar Királyi Állami Térképészet (Royal Hungarian State Cartography) is  possibly derived from maps originally published in Baloghné Terézia's 1928 zoological atlas.  It is further assumed that wall maps of this nature were most likely produced for educational purposes.
As with many thematic maps, political boundaries and scale are not as important as to the underlying imagery used to convey information by cartographic means over a defines geographical area.  This beautiful and stunning wall map not only portrays the extant of the diversity of the fauna found on the Asian continent, but  the soft colour tones of the image of the rich vastness of continent is enhanced by the contrasting aqua blue of the surrounding oceans.
As such, this wall map, with its geographical emphasis, can also be considered a work of art.
To date, this map does not appear to be found in any institutional collection, and only one other similar map of the fauna of the African continent is known to exist. A rare find for any collectors of thematic cartography or of stunning wall maps in general.