York 1834. Now Incorporated as the City of Toronto.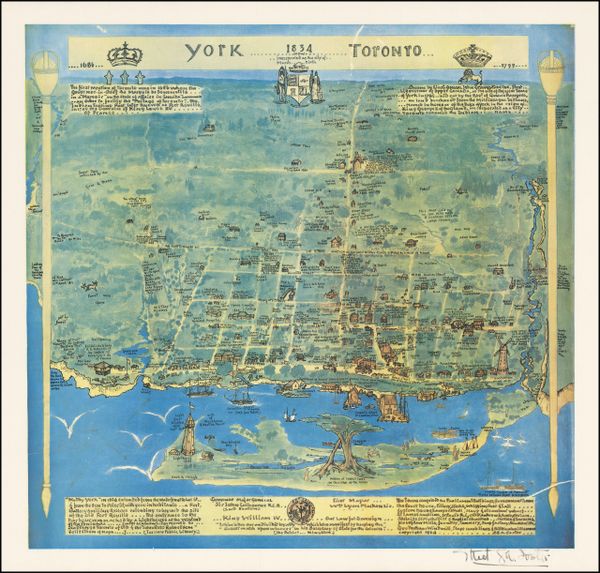 York 1834. Now Incorporated as the City of Toronto.
Ethel G.A. Foster
Published 1934, Toronto
Size 25" X 20"
Condition: Abrasions on the lower left part of the image, else very good.
Description:
A rare pictorial map of Toronto issued to celebrate the centenary of its founding in 1834.
The map provides a beautiful depiction of the young city of York in 1834, which later was renamed Toronto, from the indigenous Mohawk word tkaronto, meaning "where there are trees standing in the water."  
The map draws the viewer's attention by drawing two Maces from the first Parliament buildings that were carried off when the town was captured, on each side of the image.  Below the cartouche and within the image delineated by the two Maces are two inset notations giving historical background to the city.  For example the upper left notation indicates that the first mention of Toronto was in 1686 when the Governor in Chief, the Marquis de Denonville, in a memoir announced an order to fortify the portage of Toronto, later known as Fort Rouille, which became in 1749 the domain of King Louis XV of France.  The second notation in the upper right quadrant indicates that the site of the town of York was chosen by Lieut. General John Graves Simcoe from lands purchased from the Mississauga tribe and named in honour of the Duke of York in the reign of King George II.  Below the town plan is a third inset that provides further historical context of the founding of "Muddy York" that extended from the waterfront to Lot Street, and from the Don River to Peter Street.  It is also worth mentioning that an acknowledgement is made in this inset to the "John Ross Robertson Collection of Maps" held at the Toronto Public Library.
Foster's pictorial map is not only a beautiful commemorative art piece issued to celebrate one of North America's premier cities and the socio-economic centre of Canada, but it also provides much historical information of the different buildings that were present at the time of its founding or that were of importance to its evolution. As is the case with pictorial maps in general, the imagery is often associated with leisure and pleasure, yet providing important historical information to the viewer without regards to cartographic precision.