La Californie ou Nouvelle Caroline, Teatro de Los Trabajos, Apostólicos de la Compa. E. jesus en la America Septe...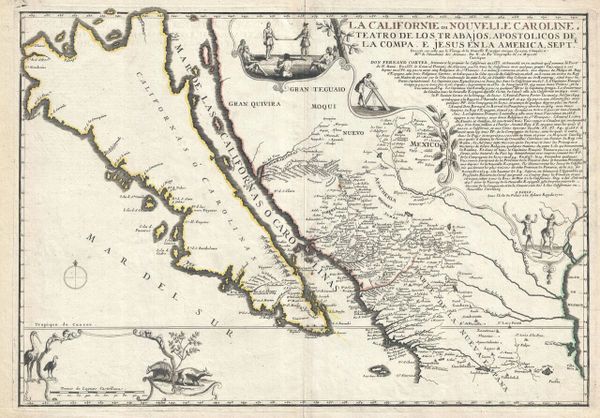 La Californie ou Nouvelle Caroline, Teatro de Los Trabajos, Apostólicos de la Compa. E. jesus en la America Septe...
NICOLAS DE FER
An important and rare map drawn by a leading cartographer of the 18th Century, Nicolas de Fer. This map was first published in 1720, the year of De Fer's death. Of particular interest with this map is that it is the largest sized depiction of the California as an island myth which was published in De Fer's collated Atlas ou recueil de Carte Geographiques… Although cartographers of the 16th and early 17th Century, such as Gerard Mercator and Abraham Ortelius, correctly drew the region as a peninsula following reports from the Spanish explorer Francisco de Ulloa, the misconception of California as an island began to be depicted by cartographers following a map drawn by Michiel Colijin's in1622 and persisted well into the late 18th Century.
What is of interest is the fact that De Fer's depiction of the California as an island myth is based not only on the cartographic misconception the times, but also from the information he pirated from Father Eusebio Kino's manuscript map of 1696. This map, which, along with Kino's Paso for Tierra á la California, found their way to France, while De Fer was working on his Atlas Curieux ou le monde représenté dans des cartes générales… which was published in 1705. The irony, is that Father Kino would eventually disprove the California as an island myth as early as 1701 following his travels to the region. However, Kino's map Carte du passage par terre a la Californie… would only be published in Lettres Edifiantes in 1705, the same year as De Fer's Atlas Curieux where De Fer first published the California as an island myth in his Cette Carte de Californie et du Nouveau Mexique…
Although it is uncertain whether De Fer's depiction of California was politically motivated, the geographical ramification of whether California was an island was important to European colonial ambitions and land claims in the Western part of North America. Spanish claims to the American West coast were based on the early exploration by Hernando Cortez in 1536 where he laid claim to the island of California for the Spanish Crown. However, because of competing claims to the region, principally those of New Albion made by Francis Drake it has been argued that "the Spanish thus needed to promote Cortez's claim on the 'Island of California' to preempt English claims on the western coast of North America." It has further been argued that the "influence of the Spanish crown on European cartographers, especially the important French house of Sanson, caused a major resurgence of the Insular California theory."
Thus, De Fer's map of California as an island offers the collector not only with one of the best and most beautiful example of this myth, but also provides a fascinating insight into how political or subjective influences can sometimes lead to spurious scientific observations that last well after facts come to light.

(Sources: Geographicus. This map is also owned offered for sale by Neatline Antique Maps)